New York — Two New Yorkers whose parents live in Lawrence talked about being stunned this morning by the disaster that hit the World Trade Center, a few miles from their home.
"There's a mall right underneath. I was just shopping there yesterday," Sarah Keating said in a phone conversation this morning from her home in Staten Island. "It was terrifying."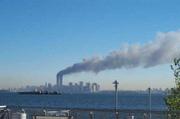 Keating, 26, the daughter of Bernie and Nancy Re, Lawrence, and her brother, Jamie Re, 21, watched the events unfold Tuesday after first getting the news on television.
Keating, who works about 20 blocks away from the crash area in lower Manhattan, said at least 40,000 people work in and near that area.
The World Trade Center is also a transportation hub, she said.
"There are 10s of thousands of people who go through there," she said. "It's such a huge transportation center. ... It's not just the people who work in that building, it's people who are commuting through that area."
Jamie Re, who just moved to New York City a few weeks ago, said he was in bed when he heard his sister shouting about the disaster as she watched it on TV.
"I just had to go see it, so I walked outside to take pictures," he said. "People were just standing on the sidewalk looking. I walked down the hill, right to the shore. There was a group of people watching in disbelief. People were listening to it on their radios. Pretty much everybody I heard talking about it assumed it was a terrorist attack."
Re said he could see the flames of the World Trade Center towers from his home.
On Staten Island, Re said he could hear sirens and see helicopters flying in the area.
"I just talked to my sister's husband in the city and he heard (military) fighter jets going over," Re said.
Matt Klaassen, a former student at Tabor College in Kansas, e-mailed friends this morning that he was safe. He said he came up from the subway to see two gaping holes in the trade center.
"I think we're about a mile or less from the Trade Center, but they haven't evacuated our building," he wrote. "I doubt they could evacuate everyone.
"My co-worker was on the street when the second plane hit. She said she heard a loud noise and turned around and saw the building burst into
flames. Everyone on the screen was screaming. It's really wild to see people milling around on the streets shell-shocked, or just going on their way."
Copyright 2018 The Lawrence Journal-World. All rights reserved. This material may not be published, broadcast, rewritten or redistributed. We strive to uphold our values for every story published.