Milwaukee — Darryl Kile put a lot of men on base, and that's where he left them.
Kile, backed by a two-run homer from Mark McGwire, won for the first time in almost a month to lead the St. Louis Cardinals over the Milwaukee Brewers 8-0 Monday night.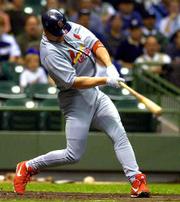 Kile (14-10) scattered nine hits over six innings to win for the first time since Aug. 12 against the New York Mets. He had been 0-3 in his previous four starts.
"They had some chances the first three innings and he just reached back and got a little extra," Cardinals manager Tony La Russa said.
Kile, who had not pitched since Sept. 2 and was pushed back three days from his scheduled start, was removed when his elbow stiffened up, La Russa said.
"It was a tough game," Kile said. "A lot of guys on base. I was in trouble the whole time. They hit balls hard.
"I tried to battle with what I had today. Fortunately, we scored a bunch of runs. As far as my elbow, my elbow is not an issue."
St. Louis (79-64) closed within a half-game of San Francisco (80-64), the NL wild card leader, and moved within five games of Houston, which leads the NL Central. The Cardinals play their remaining 19 games against division opponents, including six games with the Astros.
Kile pitched out of trouble in each of the first five innings. He stranded runners at second and third in both the first and second innings, and left the bases loaded in the fourth. In the third, right fielder J.D. Drew threw out Geoff Jenkins at home for the final out.
"They got a few pitches to hit. They hit some balls hard," Kile said. "Fortunately, I was able to catch a break and have them hit a line drive at a guy or make a pitch when I was in trouble and get out of the inning."
Mike Matthews finished for his first career save, his first in four chances this season.
Jamey Wright (9-11) was rocked for eight runs on six hits in 3 2-3 innings.
McGwire hit his 24th homer in the second, a 445-shot off the bottom of the scoreboard in straightaway center. Half of McGwire's 48 hits are home runs.
Placido Polanco's bases-loaded single keyed a six-run fourth inning as the Cardinals pushed the lead to 8-0.
"Up to that point, I thought I'd only made one bad pitch," Wright said. "That was the pitch to McGwire, which I didn't get in like I wanted to."
Cubs 8, Reds 2
Chicago Don Baylor put his faith in Roosevelt Brown, who came through and helped the Chicago Cubs stop their latest slide.
"He sat around for a couple days, and I thought today was the right day to put him in the lineup," Baylor said. "He deserved to be in there, hitting cleanup."
Brown homered and drove in four runs, and Jon Lieber won his 18th game as the Cubs stopped their five-game losing streak with an 8-2 victory over the Cincinnati Reds on Monday night.
Brown, a September callup in his third stint with the Cubs this year, hit fourth in place of Fred McGriff, sidelined with strained left hamstring.
"I want to show them that I can play at this level," said Brown, who won the Pacific Coast League batting title with a .346 average for Iowa.
Baylor said it was Brown's refusal to pout after batting .211 in limited time for the Cubs that kept him in good favor.
"Anytime you win a batting title at Triple-A, and do all the things we ask you to do, that's why he got the start," Baylor said.
Brown matched his career high in RBIs, going 3-for-4.
Ron Coomer and Joe Girardi each had two RBIs for the Cubs, who tied Los Angeles for third in the NL wild card race, 1 1/2 games back of San Francisco and one game behind St. Louis.
Lieber (18-6) tied Randy Johnson for third-most wins in the NL behind Curt Schilling and Matt Morris and improved to 4-0 with an 0.93 ERA in four starts against the Reds this year.
"The bottom line is, we need to win ballgames as a club," Lieber said. "We need to get back in this race, and that's all we need to be concentrating on."
Lieber allowed two runs and four hits in seven innings and struck out seven.
"He found a groove for a couple of innings, but he'd probably tell you he could be better," Baylor said. "He didn't have his real good location, especially with his slider."
Jeff Fassero and Kyle Farnsworth finished the six-hitter.
Copyright 2018 The Lawrence Journal-World. All rights reserved. This material may not be published, broadcast, rewritten or redistributed. We strive to uphold our values for every story published.