Call it the part of growth that no one wants to think about, but Lawrence's consistently rising population has spurred new activity in the city's funeral home business.
Lawrence Funeral Chapel is expected to open by the year's end at the southeast corner of Sixth Street and Monterey Way a project driven by the city's ongoing expansion, its investors said.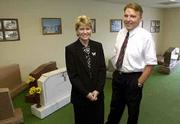 Donna Mathena-Menke, funeral director, will partner with Chris Hutton, owner of Lawrence Hutton Monuments, to open the new funeral home. The monument business will be relocated into the new building from its current home at 811 E. 23rd St.
"I know there are two funeral homes in Lawrence that do a good job, but with the growth this town has seen and the volume of business those two must do, I think a third will be a welcome addition," Mathena-Menke said.
Mack Smith, executive secretary of the Kansas State Board of Mortuary Arts, said it should be no surprise that Lawrence is seeing its funeral home ranks grow. City officials estimate Lawrence's population this year as 81,457, adding to the 22 percent increase during the 1990s as reported by the U.S. Census.
"Population growth, geographic growth and demographic growth are all types of growth that spur new businesses, and funeral homes are businesses," Smith said.
Smith noted the new chapel shouldn't overcrowd Lawrence's funeral home market. Topeka, after all, soon will have eight funeral homes and 120,000 residents.
Then again, the median age of Lawrence residents is 25.3 years, compared with 36.3 years in Topeka and 35.2 years statewide.
Lawrence's death rate is second-lowest only to Olathe's in Kansas. Lawrence's annual rate is 4.9 residents per thousand; the state's is 9.2 deaths per thousand, according to the Kansas Office of Vital Statistics.
"The new funeral home will have to be prepared to grow with the community," Smith said.
Mathena-Menke, who previously worked for a Topeka funeral home, said the new business would start small, with a first-year goal of conducting 30 to 35 of the estimated 600 funerals a year in Lawrence.
Owners from Lawrence's two existing funeral homes said they weren't surprised that another had decided to enter the market, but they said they weren't sure Lawrence's growth warranted it.
"I've been here 18 years, and the population has increased quite a bit, but the death rate hasn't because it has been such a young population," said Phil Padden, a partner at Warren-McElwain Mortuary.
Padden said the low number of deaths in Lawrence had stopped Warren-McElwain from making any definite plans to build a branch location on land the company has owned northwest of Clinton Parkway and Wakarusa Drive for the past 10 years.
"Our plan is to eventually do something there, but right now we don't feel we can justify it," he said.
Al Yost, owner of Rumsey-Yost Funeral Home and Crematory, said that his company didn't have any plans for new locations either. The business recently renovated and expanded its center at 601 Ind.
"We have plenty of room and time for more services," Yost said. "We're not maxed out at all."
Copyright 2018 The Lawrence Journal-World. All rights reserved. This material may not be published, broadcast, rewritten or redistributed. We strive to uphold our values for every story published.