More than 100 people gathered Monday at South Park to remember Rachelle "Angel" Conrad, the homeless Lawrence woman found dead Friday morning in a city park.
After the service, a dozen mourners marched to City Hall, where they asked Mayor Mike Rundle to back efforts to create an "open" shelter, one that would admit homeless people who have been drinking.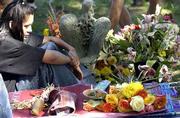 The Salvation Army, which opened its seasonal shelter last week, does not admit persons who can't pass an alcohol breath test.
"I know we're slowly getting started" in assistance to local shelters, Rundle told them. "I don't know if we can find money for a second shelter."
Police said Monday they still didn't know how Conrad, 37, died. She was found early Friday near a shelter at Clinton Park, 901 W. Fifth St. But Conrad was known in the homeless community as a hard drinker and occasional victim of violence.
A friend, Robert Kills Pretty Enemy, said he was with Conrad the night she died.
"She wanted to lay down because she didn't feel good," he said at the memorial service. "I didn't know how bad she felt."
When he woke up the next morning, Kills Pretty Enemy said, Conrad was dead.
The service blended American Indian and Christian traditions. Several of Conrad's relatives attended, but declined to comment on her life or death.
Several speakers praised Conrad as a generous person, particularly to homeless American Indians.
"There were times when she brought me food. There were times she brought me water," said David Darnell Williamson. "This sweatshirt I'm wearing, she gave me back in April."
Herman Leon, an advocate for the city's homeless, led the march to City Hall.
City officials "have it in their power to produce a working open shelter tonight, if they wanted to," he said.
Sharilyn Wells, director of Project Acceptance, also called for an open shelter. Many homeless drinkers are "dual diagnoses," she said, meaning they are both alcoholic and mentally ill.
"To expect them to sort of come out of it while they're roaming the streets doesn't make sense to me," Wells said.
Salvation Army Captain Carolyn Schuetz said an open shelter might create more problems for such people.
"Enablement is a big problem we have in this city," Schuetz said. "I see individuals here today that, if my shelter was 'wet,' they might not have as a goal to get sober."
Leon said an open shelter would be a sign of the city's character.
"I would like us all to live in a city where we take care of everybody," he said. "We believe you can't help anybody with their problems if they're dead."
Rundle said he would put the issue on the agenda for the Lawrence City Commission's meeting Sept. 18. In the meantime, he encouraged homeless advocates to develop a concrete plan and said he would explore city options.
Click the Play control button to begin the clip.
If you have trouble viewing this video clip you may have to
download Quicktime
Copyright 2018 The Lawrence Journal-World. All rights reserved. This material may not be published, broadcast, rewritten or redistributed. We strive to uphold our values for every story published.