Jos, Nigeria — American missionaries helped Nigerian Muslims sweep up market stalls destroyed by a Christian mob on a righteous rampage. A few blocks away, a 16-year-old Christian girl returned home after being saved from a killer Muslim gang by a stranger. Her savior? A Muslim.
Throughout this stunningly beautiful plateau city on Monday, accounts of human compassion cut across the grain of a three-day cycle of Muslim-Christian violence that left dozens, at least hundreds, more likely dead.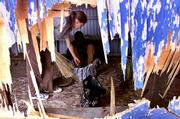 "There were so many bodies," said Muhuyiddeen Jibrin, a Muslim stall owner, who said he watched six people one, his neighbor gunned down in a single exchange between Christians and Muslims. "I don't know how I'll ever sleep."
Jos, a predominantly Christian city of 4 million with a large Muslim minority, has long been a base for foreign Christian missions owing to its climate, its beauty and until now its serenity.
That all shattered Friday night, when what had been growing Muslim-Christian tensions exploded over what some said was a simple bit of rudeness a Christian woman who tried to cross a street in front of a mosque where Muslim men were gathered in prayer.
While the devastation throughout this city was enormous with thousands of cars and homes and dozens of places of worship destroyed the carnage was far from universal.
Residents recounted stories Monday of Muslims and Christians saving one another from death or risking their own lives to rush wounded to hospitals and pull corpses of friends and strangers alike off streets during the fighting.
Jibrin's stepbrother, Gazali Shuaibu, a Muslim, said he rescued a frightened 16-year-old Christian, Ehuna Nyitsse, when he pulled her into his house Friday evening to help her escape a Muslim mob.
"I never met her before that, but I saved her because maybe one day maybe something will happen to me and I will need help from her," said Shuaibu.
Copyright 2017 The Associated Press. All rights reserved. This material may not be published, broadcast, rewritten or redistributed. We strive to uphold our values for every story published.