Washington — Michael Jordan said Monday night that he is one step closer to making a return to play for the Washington Wizards but that he is not fully convinced he will end his three-year retirement. When told that three news organizations were reporting that he had all but confirmed his return to the NBA, Jordan said: "I didn't say that. I have not said it."
Jordan said Monday night that after rating himself a 7 on a scale of 1 to 10 last week that he is up to an 8. He added that if he is not up to 10 in 10 days then he is unsure what he would do.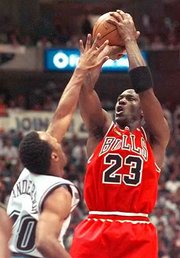 Jordan said he must still gauge himself in a final week's worth of scrimmages against fellow NBA players before he is convinced, at age 38, he can endure an 82-game schedule. Jordan, part owner and president of basketball operations for the Wizards, said he would make an announcement regarding his future sometime next week.
Jordan was interviewed for 30 minutes Monday by reporters from the Associated Press, Chicago Sun-Times and CNNSI.com. Afterward, the Associated Press and CNNSI.com reported Jordan had all but confirmed a return.
"I can't confirm any date has been set for an announcement but I can confirm a mechanism is in place for a press conference if and when Michael says go," Wizards team spokesman Matt Williams said.
Jordan, who in 13 seasons with the Chicago Bulls won six NBA titles and established himself as one of the best players ever, said his motivation for attempting a comeback is for the love of the game, not money or ego. Jordan reiterated that he was speaking of his months of attempting to get into basketball shape, not his definite return.
Still, the tone of Jordan's focus has changed drastically since he declared in February that he was "99.9" percent certain that he would not play again. When Jordan began working out late last winter, he said he was only trying to lose weight. Through rigorous training, he was able to get close to his playing weight in a matter of months.
During that period, Jordan's intentions changed from shedding pounds to possibly playing for the team that he has rebuilt over the past 18 months. He has endured back spasms, fractured ribs and tendinitis in his knee during his comeback bid but the injuries have not prompted him to give up.
Copyright 2018 The Lawrence Journal-World. All rights reserved. This material may not be published, broadcast, rewritten or redistributed. We strive to uphold our values for every story published.