KANSAS CITY, KAN. — University officials broke ground Monday on the $10.5 million Hoglund Brain Imaging Center on the Kansas University Medical Center campus.
Plans call for opening the state-of-the-art research facility in 2003.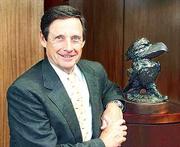 The 11,500-square-foot center is designed to discover critical new information and new treatments for Parkinson's disease, epilepsy, Alzheimer's disease, stroke and autism.
The center will include one of only three MEG (magnetoencephalography) devices in the nation capable of creating functional images of a developing brain in the womb.
The center will also include specially equipped MRIs designed to analyze brain functions.
"Because this research facility is in the state, the people of Kansas will be the first to benefit from the new medical knowledge uncovered here. They will have access to the doctors who make the discoveries," said KU Chancellor Robert Hemenway, addressing a crowd of about 250 people at the ground-breaking ceremony.
The imaging center is named for KU alumni Forrest and Sally Roney Hoglund of Dallas, whose $4 million gift for the center made the project a reality. Forrest Hoglund is a longtime energy executive.
"We want this gift to be just the beginning of a public and private partnership to support medical research on the KU Medical Center campus. The benefits of financial support to Kansas are real and immediate. The potential is unlimited," Forrest Hoglund said.
In addition to the Hoglunds' gift, the state of Kansas is providing $1.5 million. The federal government is contributing $1.8 million.
The Hoglunds' contribution is the largest private gift for a building project in the history of the Med Center.
Currently, Forrest Hoglund is chairman of "KU First: Investing in Excellence," the university's capital campaign aimed at raising $500 million for both KU and the Med Center. He served on the steering committee of the last major campaign, Campaign Kansas, from 1987 to 1992.
The Hoglunds also underwrote extensive renovations at the KU baseball stadium, which now bears their name.
Copyright 2018 The Lawrence Journal-World. All rights reserved. This material may not be published, broadcast, rewritten or redistributed. We strive to uphold our values for every story published.