Topeka — Fear of shortages in the nation's gasoline supply caused a spike in fuel prices Tuesday and sent Kansans scurrying to filling stations.
Most Lawrence stations Tuesday afternoon were holding steady between $1.61 and $1.65. But by 4:30 p.m., signs at Conoco, 23rd Street and Haskell Avenue, read $5.62 per gallon for regular unleaded.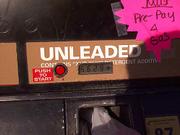 "It's disgusting that people are capitalizing on what happened today," said Stacy Greenbaum, who waited 15 minutes at the station and witnessed a three-car pileup she said was caused by traffic congestion before giving up and going home. "It's pandemonium."
Reports of price spikes included fuel prices of more than $3 and $4 a gallon, creating a false sense of panic, authorities said.
Jon Viets, chairman of Crescent Oil Co., in Independence, said rumors of supplies being cut were "speculation."
"We have utterly no reason to believe there is any systematic curtailment or cessation of supply," he said.
Crawford County Sheriff Sandy Horton said residents rushing for fuel were creating traffic problems. Supplies were running short in Girard and Pittsburg.
"To our knowledge there is no shortage of fuel except for the one we are creating," Horton said.
He said law enforcement officials were being overwhelmed by calls of traffic backed up into streets near stations.
"People just need to relax and stay calm," Horton said.
At a Phillips 66 station in Topeka, Jared Pedersen said he came from Wichita, where prices were rising.
"I'm going to fill my truck up because of crazy gas prices," he said.
Alan Jones, spokesman for the AAA of Kansas, said the attacks on the United States have sent the price of crude oil above $30 a barrel overseas.
"In Wichita, in the last hour with all the panic and things, it was still $1.58 at some the convenience store," he said around 4:30 p.m.
Asking about rumors of prices already hitting $5 a gallon, he said, "If it is, nobody is buying it at that station. They are stacked up at the convenience stores, but prices are still at $1.58 as of now."
Gasoline lines were already formed by 4:30 p.m. Tuesday in Tonganoxie. Some stations in Leavenworth County required police presence.
Click the Play control button to begin the clips.
If you have trouble viewing this video clip you may have to
download Quicktime
Copyright 2018 The Associated Press. All rights reserved. This material may not be published, broadcast, rewritten or redistributed. We strive to uphold our values for every story published.