Cleveland — The standings may show otherwise, but the Chicago White Sox did get to repeat one thing in the AL Central.
Rookie Dan Wright pitched seven strong innings as Chicago salvaged a disappointing year by at least winning their season series against first-place Cleveland with a 7-1 victory Monday night.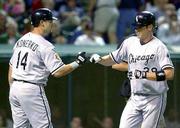 Chicago came in Friday needing a sweep to stay alive in the division race, but blew leads in losing two one-run games during the weekend.
Still, the White Sox won the season series 10-9 and showed the Indians that their division title in 2000 was no fluke. Last year, the White Sox went 8-5 against Cleveland.
"I think we showed them all year that we can play with them," White Sox center fielder Chris Singleton said. "We knew we could play with those guys and beat them. I think they're glad to see us leaving."
Wright (4-2) allowed one run a homer by Jim Thome and six hits for the White Sox, who despite a season-long rash of injuries have managed to keep within striking distance.
"Mathematically, you can't count them out," Indians shortstop Omar Vizquel said. "They still have a chance."
Wright, making his ninth career start, walked three, struck out one and was helped by two double plays.
"It felt good," he said. "It's always good to go up against a team as good as the Indians so solid."
Jeff Liefer homered off Bartolo Colon (12-11) shortly after replacing injured right fielder Magglio Ordonez as the White Sox split the four-game series.
Pinch-hitter Tony Graffanino had a two-run single in the eighth to give the White Sox a 5-1 lead. Chicago added two runs in the ninth.
Thome hit his AL-leading 47th homer for the Indians, whose division lead slipped to six games over second-place Minnesota. The Twins won 3-2 at Detroit. Colon had his start pushed back one day because of soreness in his right elbow and he labored throughout his outing.
The right-hander gave up three runs and seven hits while throwing 131 pitches in just 5 1-3 innings.
"Man, he threw a lot of pitches," Indians manager Charlie Manuel said. "He struggling to throw strikes. Finally, I had to go get him."
Manuel said Colon insisted there was nothing physically bothering him but that he never got in a groove.
"He looked uncomfortable," Manuel said.
Liefer came off the bench and immediately gave Chicago a 2-1 lead in the third, connecting for his 17th homer.
Liefer replaced Ordonez in right field in the second inning after Ordonez hurt his left wrist on a check-swing strikeout in the first inning.
Ordonez was taken to Lutheran Hospital for X-rays, which were negative and the All-Star outfielder is day to day.
Royce Clayton's RBI single put the White Sox ahead 3-1 and chased Colon in the sixth. Clayton is batting .478 with 12 RBIs in his last 13 games.
In the eighth, Chicago loaded the bases with one out before Graffanino singled to center off Rich Rodriguez. Carlos Lee snapped a 1-for-22 slump with a single in the sixth.
Twins 3, Tigers 2
Detroit Even with all their second-half struggles, the Minnesota Twins can still beat their favorite whipping boys. Especially when Joe Mays is on the mound.
Mays pitched eight solid innings and Torii Hunter's ninth-inning triple led to the tiebreaking run as the Twins defeated the Detroit Tigers 3-2 Monday night.
Despite winning three straight, the Twins are just 21-36 since the All-Star break. But they're 11-2 against Detroit this season, including 5-2 at Comerica Park.
Mays (15-13) has won all four of his starts against the Tigers.
"It seems like I get them on nights everything's going good and I'm able to keep them off balance," said Mays, who allowed two runs one earned and four hits.
"It might've been the best game he's pitched all year," Twins manager Tom Kelly said.
Hunter led off the ninth with a triple to center off Luis Pineda (0-1) and scored easily on LeCroy's fly ball to right-center. Eddie Guardado struck out two of the three batters he faced in the home half for his sixth save in eight chances.
Athletics 7, Rangers 1
Oakland, Calif. Barry Zito pitched a four-hitter and struck out 10 as Oakland won its eighth straight game.
With a four-run first inning and another overwhelming start by Zito, the A's cruised to their 14th win in 15 games. After sweeping Baltimore and Tampa Bay last week, they've taken all the drama out of the AL wild card race.
The A's are 11 games ahead of Minnesota for the final playoff berth and with the Yankees rained out against Boston, Oakland (87-57) moved a half-game ahead of New York (86-57) for the majors' second-best record.
Zito, the AL's pitcher of the month for August, has been nearly unbeatable over his last nine starts, and the Rangers never came close to solving him. It was his fourth career complete game, his third this season.
Zito retired the first 10 hitters before Gabe Kapler's fourth-inning single, and he took a two-hit shutout into the ninth before Mike Young homered. His high-arching curveball mystified the Rangers as he improved to 7-1 with an 0.83 ERA and 61 strikeouts since July 29.
Just 12,115 fans the smallest crowd since May 29 filled the Coliseum for another near-flawless performance by the home team.
Yankees, Red Sox, ppd
New York Monday night's game between the Boston Red Sox and New York Yankees was canceled because of rain and unplayable field conditions, costing Roger Clemens a chance to earn his 20th victory against his old team.
This game was to be the final meeting of the year between the AL East-leading Yankees and Boston. The teams have no common off-days the rest of the season. Clemens (19-1) was scheduled to start for the Yankees. He spent the first 13 years of his career in Boston, then left the Red Sox under testy circumstances after the 1996 season.
"It would've been great theater," Yankees manager Joe Torre said.
But it began raining at Yankee Stadium in the late afternoon and never let up. The game, which was supposed to begin at 7:05 p.m. EDT, never started and fans were told that it had been called shortly before 9 p.m.
Instead, Clemens will try to post his sixth 20-win season on Tuesday night at home against the Chicago White Sox.
The Yankees lost a gate of about $1.6 million from a crowd of approximately 50,000, which could cost the team a home season attendance record. New York, which passed 3 million Sunday, has eight home games remaining.
Copyright 2018 The Associated Press. All rights reserved. This material may not be published, broadcast, rewritten or redistributed. We strive to uphold our values for every story published.