Denver — Barry Bonds is amazing even himself.
Bonds hit three home runs Sunday, giving him 63 for the season to pass Roger Maris' once-magical mark and move him closer to Mark McGwire's record of 70.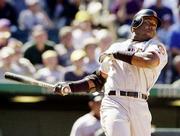 Bonds' third homer was a three-run shot in the 11th inning that helped lift the San Francisco Giants over the Colorado Rockies 9-4.
J.T. Snow broke a 4-4 tie with a two-run homer earlier in the 11th.
"I've been in disbelief over a lot of things I've done this year," Bonds admitted. "Everything is unreal. That was fun today, but not as much fun as J.T. winning it for us."
Bonds, who came to the postgame interview with home-run ball No. 62 in his pocket, took his first curtain call of the season on the road after his third homer.
Rockies fans, many of whom booed him earlier in the three-game series, gave Bonds a standing ovation, and he emerged from the dugout to acknowledge the cheers.
Several of Bonds' teammates also assembled around home plate to congratulate him after No. 63, and manager Dusty Baker later insisted that reports of coolness between Bonds and his teammates were untrue.
"All that stuff you read about hasn't been in this clubhouse," Baker said. "Everybody in this clubhouse loves Barry.
"That was a big day for Barry. Three home runs, that's awesome."
Rockies manager Buddy Bell said he hoped Bonds breaks McGwire's record.
"I'm kind of rooting for him," Bell said, "but I'm glad he won't do it here. What he did today was incredible. The first ball he hit was mammoth."
Asked if he thought Bonds would break the record, Bell said: "I think so. When Mac was going through this, I thought every time he got up he was going to hit a home run. I look at Barry the same way."
Playing at Coors Field, Bonds broke Maris' record of 61 for most homers in a season by a left-handed hitter.
Bonds has 18 games left to break McGwire's record of 70 set in 1998. Bonds is now eight games ahead of McGwire's pace.
After an off-day today, Bonds and the Giants begin a series at Houston's homer-friendly Enron Field.
Bonds connected for his second three-homer game of the season.
He also did it May 19 at Atlanta. With his first homer in the first inning, Bonds tied Maris' record for homers by a lefty set in 1961. With his second homer in the fifth, Bonds broke it.
Bonds also became the fastest to reach 63 homers, doing it in his 144th game.
McGwire needed 152 games to do it in 1998. Bonds now has 32 homers on the road, tying the major-league mark set by Babe Ruth in 1927 and equaled by McGwire in 1998.
In the first inning, on a 1-1 count, Bonds launched a 488-foot solo shot off Colorado's Scott Elarton the third-longest homer in Coors Field history. Bonds' soaring drive struck a beer sign beyond the center-field wall.
Braves 9, Cubs 5
Chicago B.J. Surhoff homered, doubled twice and drove in four runs as the Braves completed a three-game sweep in Chicago.
Surhoff and Andruw Jones hit back-to-back homers in the first inning off Jason Bere. Marcus Giles also homered for the Braves.
Sammy Sosa hit his 54th homer for Chicago and Matt Stairs added a three-run shot, but the Cubs lost their fifth straight. Bere (10-9) lasted just three innings.
Cardinals 8, Dodgers 1
St. Louis Jim Edmonds hit a grand slam and T.J. Mathews threw four-plus perfect innings after a lengthy rain delay.
Fernando Vina hit his third leadoff homer of the year and was 4-for-5 with two RBIs.
The game was delayed 2:04 after the first inning, costing St. Louis' Matt Morris a chance at his 20th victory. Morris, who had won seven straight starts, threw only 14 pitches and allowed one hit in the first.
Chan Ho Park (13-10) came back after the delay and it cost him as he allowed seven runs in three innings.
Astros 8, Brewers 0
Houston Roy Oswalt struck out 12 in his first career shutout, leading the Houston Astros. Oswalt (14-2), in his 18th career start, allowed seven hits and one walk to win his sixth straight decision.
Jeff Bagwell, Moises Alou, Brad Ausmus and Richard Hidalgo all homered for the Astros, who went deep more than once in a game for the first time since Aug. 19.
D-backs 8, Padres 2
Phoenix Damian Miller homered and drove in four runs. Steve Finley, who homered twice against the Padres the day before, was 2-for-3 with an RBI double.
Bobby Witt (3-1) didn't allow a hit until Phil Nevin led off the fifth with a home run.
Marlins 4, Mets 2
Miami Charles Johnson drove in two runs to help Juan Acevedo win for the first time in more than a year.
Acevedo (1-3) didn't allow a baserunner in three innings for his first victory since Sept. 3, 2000, for Milwaukee at Colorado.
Phillies 12, Expos 4
Montreal Johnny Estrada hit an RBI double to begin a six-run fifth inning and drew a bases-loaded walk. Scott Rolen had four RBIs, including a three-run double in the seventh. The Phillies overcame a three-run deficit by scoring 11 times in three innings.
Reds 5, Pirates 3
Pittsburgh Aaron Boone hit a two-run double in the first inning. Pirates starter Ryan Vogelsong (0-5) was forced to leave the game in the fourth inning when he injured his right elbow throwing a pitch. There was no word on the extent of his injury.
Dennys Reyes (2-6) allowed one run in five innings.
Copyright 2017 The Associated Press. All rights reserved. This material may not be published, broadcast, rewritten or redistributed. We strive to uphold our values for every story published.