New York — This much is certain, as their proud father noted, "A Williams is going to win" the U.S. Open today.
Venus and Serena Williams advanced to the final with stunning ease, beating the world's top-ranked players and setting up the first Grand Slam final between sisters in 117 years.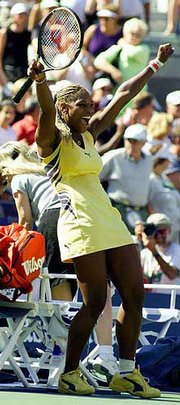 Serena won first on Friday, clubbing one last service winner on match point and happily skipping to the net. Barely two hours later, Venus closed out her own semifinal victory and celebrated with her trademark wave and pirouette.
"All my life I've been waiting for this," said their mercurial father and coach, Richard Williams. "And now it can happen."
The pairing is no surprise Serena won the Open in 1999, and defending champion Venus has won three of the past five major titles. More remarkable was how they waltzed into the final by humbling the world's two top-ranked players.
Serena played almost flawless tennis in beating No. 1 Martina Hingis 6-3, 6-2. Venus then wore down No. 2 Jennifer Capriati 6-4, 6-2.
"It's sweet. It's sweet. Just real nice, had a lot of blessings from God, and we're happy that we're healthy, and we're happy to be here," said Venus, 21.
The sisters, also best friends, will take the stage for the first prime-time Grand Slam women's final. It's the latest achievement in their remarkable rise from the mean streets of Compton, Calif., to magazine-cover celebrity.
Venus has won four of five times when the sisters have played each other, including the 2000 Wimbledon semifinal.
Venus had the tougher match Friday against Capriati, who has done wonders for the game's popularity herself with a resurgence that included back-to-back Grand Slam titles.
Capriati raced to a 4-1 lead, but Williams repeatedly picking on Capriati's backhand to win long, grueling points swept seven consecutive games to take command.
Capriati fell to 0-4 against Venus.
"I definitely ran out of gas," she said.
The statistics told the tale of Serena's domination of Hingis. Williams smacked 40 winners, including serves, to five for Hingis. Williams hit 10 aces with no double faults, won seven games at love and made every first serve 17-for-17 in the second set.
"I can't serve any better than that," she said with a laugh. "Oh my gosh."
In the last five games, Hingis put only four of 21 returns into play and Williams feasted on her 65-mph second serve.
Hingis was on the defensive from the start, falling behind 5-1. Williams hit three aces and a service win to win the final game of the opening set, then walked off the court flexing her arm like a bodybuilder.
By the time she ran off 10 consecutive points midway through the final set, Hingis was clearly flustered.
Hingis will remain No. 1 next week because she plays more matches and more consistently than the other top players. But she hasn't won a major title in 21/2 years and admitted to feeling frustrated against Williams.
The Williams sisters play an overpowering style of tennis that Maud and Lillian Watson probably wouldn't recognize. The Watsons took part in the only previous Grand Slam final between sisters at Wimbledon in 1884, and Maud rallied to win the first major title.
Although Richard Williams called today's match a dream come true, he said he planned to head home to Palm Beach Gardens, Fla., and wouldn't watch, not even on television.
The girls aren't fond of playing each other, and there has long been debate about whether their father predetermines the outcome of their matches against each other.
"If you ever noticed, the winner gets $850,000," Serena said with a laugh. "So I won't have any problem going out there and trying to win."
Copyright 2018 The Associated Press. All rights reserved. This material may not be published, broadcast, rewritten or redistributed. We strive to uphold our values for every story published.