New York — A worse-than-expected unemployment report ignited another dizzying selloff Friday, sending the Dow Jones industrials tumbling more than 230 points and the Standard & Poor's 500 index to its lowest level in nearly three years.
Analysts blamed the losses on Wall Street's growing fears that the economy is worsening and that more bad news, rather than a turnaround, is ahead.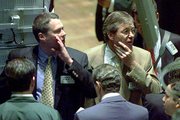 "People are concerned that the economic slowdown isn't showing signs of recovery," said Robert Harrington, head of listed block trading at UBS Warburg. "People were looking for a third-quarter turnaround and that's not happening. Now the fourth quarter is a question mark and we've pushed projections out to 2002."
The Dow closed down 234.99, or 2.4 percent, at 9,605.85, its lowest close since April 4, but still 216 points above its weakest finish for the year.
The Standard & Poor's 500 index fell 20.62, or 1.9 percent, to 1,085.78, its weakest finish this year and lowest close since October 1998.
The Nasdaq composite index fell the least of the three major benchmarks but still recorded its worst close since April 4, down 17.94, or nearly 1.1 percent, at 1,687.70, about 49 points from its 2001 low point.
For the week, the Dow lost nearly 3.5 percent, the Nasdaq fell 6.5 percent and the S&P; dropped 4.2 percent. In the last two weeks, the Dow has tumbled nearly 8 percent, the Nasdaq composite nearly 12 percent and the S&P; 8 percent.
Friday's selling began early in the session on a Labor Department report showing the nation's unemployment rate soared to 4.9 percent in August its highest level in nearly four years.
Investors punished retailers Friday out of fear the slowdown would hurt consumer spending and confidence. Consumer spending accounts for two-thirds of the economy, and Wall Street is terrified that any decrease could put already fragile businesses in even worse positions than they are now.
Home Depot dropped $2.60, or 6 percent, to $40.95, while Wal-Mart lost $1.15 to $46.22.
So far the U.S. economy has managed to steer clear of a recession, commonly defined as two consecutive quarters of negative growth.
The pessimism extended to manufacturing and financial stocks. American Express slid 68 cents to $34.60 on fears a consumer and business slowdown would hurt the broader sector. And Boeing tumbled $3.66, or 7.5 percent, to $45.18 after a Morgan Stanley analyst downgraded the airplane manufacturer, citing slowing orders.
Even pharmaceutical issues, usually a favorite with Wall Street in uncertain times, were weak. Merck lost $1.45 to $64.30.
Tech stocks also suffered, despite some positive news concerning two bellwethers. Intel fell 21 cents to $25.89, despite its reiteration late Thursday that its revenues would be in line with expectations. Microsoft dropped 62 cents to $55.40.
Wall Street had been hoping for a rally when investors returned from summer holidays this week, but got just the opposite.
Analysts have said investors are hesitant to make any big commitments until corporate and economic news improve.
This week Motorola reduced third-quarter profit forecasts and announced 2,000 more job cuts for a yearly total of 32,000. Manufacturing data was not as weak as expected, but retail reports were mixed.
Copyright 2018 The Associated Press. All rights reserved. This material may not be published, broadcast, rewritten or redistributed. We strive to uphold our values for every story published.