Nazran, Russia — In an abrupt change of course, President Vladimir Putin said Friday the Kremlin was ready to negotiate with any separatist leader in Chechnya.
But he said that before talks could start, the rebels must disarm, give up the region's 10-year independence and surrender the insurgents most wanted in Moscow.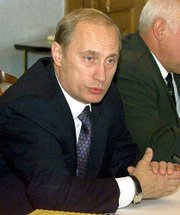 "I believe that talks are always better than actions involving the use of force, and we are ready for contacts with anyone," Putin said in the southern town of Kislovodsk, where he convened talks about nearby Chechnya.
Until now, the Kremlin has angrily dismissed criticism of the war from Western governments and international human rights groups that called for peace talks. Putin has continually said the military campaign must go on until all rebels are crushed.
Friday, Putin responded to a suggestion by liberal lawmaker Boris Nemtsov that the government begin talks with Chechen President Aslan Maskhadov.
Putin pointedly referred to him as "citizen Maskhadov" emphasizing that he doesn't recognize Maskhadov's presidency and considers him a citizen of Russia, not of an independent Chechnya.
Putin said for talks to start, Chechnya must give up independence claims, accept federal rule, disarm all rebels and surrender "the most notorious bandits, whose arms are elbow-deep in the blood of the Russian people."
But Akhmad Kadyrov, the Kremlin-appointed chief of Chechnya's administration, said the conditions laid out by Putin were all but impossible to meet.
"There can be no talks with Maskhadov because neither Nemtsov nor anyone else can ensure that the rebels meet the conditions set by the president," he said.
Nemtsov, who recently traveled to Chechnya, said he would welcome any moves toward negotiations.
"Now it's necessary to move from words to action, name a presidential representative in charge of that and determine the conditions and time frame," Nemtsov told NTV television.
Moscow never recognized the rebels' Sept. 6, 1991, declaration of independence.
Copyright 2018 The Associated Press. All rights reserved. This material may not be published, broadcast, rewritten or redistributed. We strive to uphold our values for every story published.