Montreal — Dicky Pride set a course record Friday at Royal Montreal that lasted only about five minutes. His consolation prize was a one-stroke lead in the Canadian Open.
Pride, who has never finished in the top 100 on the money list since his only PGA Tour victory in 1994, made three straight birdies on the back nine and finished with a 6-under-par 64 and a one-stroke lead over former Kansas University golfer Matt Gogel and David Morland IV of Canada.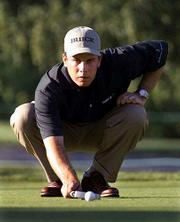 Scott Verplank, the first rookie to be a captain's pick for the Ryder Cup, broke Pride's short-lived record with nine birdies in a round of 63. An hour later, Morland chipped in for birdie on his 17th hole and also finished at 63.
"A course record ... and then it was broken," said Pride, who was at 131.
At least he only lost a spot in the history books at North America's oldest golf club.
Tiger Woods lost a ball, which was nestled 20 feet high in a pine tree on the second fairway and led to a triple bogey that left him reeling, but not out of contention.
"Anybody under par has a chance to win," Woods said after a 3-over 73 left him seven strokes behind.
A wild and windy day finally concluded with Woods heading to the practice range and a group of unlikely suspects at the top of the leaderboard. Of the top 12 players, only two have won on the PGA Tour this year.
It starts with Pride, who hasn't finished higher than 46th this year and recently split with his swing coach of 12 years.
"I've hit the ball solid and I'm putting well, so I'm giving myself opportunities to make birdie and that's kind of what you need to do," Pride said.
Morland has a chance to become the first Canadian to win his national golf championship since Pat Fletcher in 1954. His first memory of the Canadian Open was in 1986 when he was a 14-year-old volunteer in the media center. That was the year Greg Norman had a 62 in the third round at Glen Abbey.
"I thought, 'How could someone shoot 62 on that golf course?"' he said.
Others were wondering the same thing about Morland and Verplank, whose 63 put him two strokes back at 133.
The answer: a calm, soft morning. Six players who had early times had 65 or better, which previously was the course record. It was quite a different test in the afternoon, as the dry wind swirled through the trees and dried out the Blue Course at Royal Montreal.
Vijay Singh missed the cut after rounds of 72-71, ending the second-longest streak among active players at 24.
Leading that list is Woods, who made the cut for the 76th straight PGA Tour event. Royal Montreal is the only course where he missed a cut, at the 1997 Canadian Open, and that was never really in question.
But a bizarre triple bogey on No. 2 his 11th hole made it interesting.
Woods hit driver down the right side and when he finished walking 320 yards there was no ball to be found. He looked in the rough and over to the right, then resigned himself to a long walk back to the tee box.
That's when the crowd started yelling and pointing to a tree. There was a ball nestled high in the pines, but Woods couldn't identify it as his, "and I wasn't about to climb the tree to do that."
Turns out it wasn't his, anyway. Fans shook it loose it was a Titleist. After he hit his tee shot again, another ball was spotted. The Nike swoosh could be seen through a camera lens, but that wasn't enough identification and it was too late, anyway.
Still, fans lobbed liter-sized bottles of water and hurled apples into the tree trying to jar it loose. Woods hit his second tee shot in about the same spot, pitched from the rough through the green, chunked a chip and two-putted for a 7.
"Tiger, you're ball is in the tree," a fan shouted.
"It's too late," Woods muttered, clearly annoyed. He missed his next three fairways and hit only six out of 14 for the round, unable to get anything going.
"I hung in there," Woods said after his round.
Divots: Joel Edwards, coming off his first victory last week in Vancouver, was in jeopardy of missing the cut until playing his final 11 holes in 4 under. That was no small task considering he was playing with Woods and had to deal with a horde of photographers unaware that anyone else was playing golf. "It was a circus," Edwards said. "But it was fun. I'd like to play with him again." ... Gareth Paddison of New Zealand was the only amateur to make the cut, at 137. ... Now that Singh's cut streak is over, the next two players behind Woods' 76 are David Duval and Paul Azinger at 14 in a row.
Copyright 2018 The Lawrence Journal-World. All rights reserved. This material may not be published, broadcast, rewritten or redistributed. We strive to uphold our values for every story published.