New York — The New York Yankees have just about ended Boston's season. The only question left for the Red Sox is whether Pedro Martinez is done for the year, too.
Martinez's comeback from a sore right shoulder stalled Friday night when he left after three innings and the Yankees beat the Red Sox for the fifth straight time, 3-2.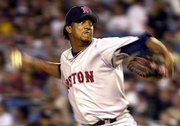 "You could tell he was not 100 percent," Boston catcher Scott Hatteberg said. "His velocity is not there. He's not the Pedro we know."
The Red Sox must now decide when or if he will pitch again this season.
With Boston 11 games behind New York in the AL East, there seems little reason to risk the most important right arm in New England anymore.
"We're going to talk to him tomorrow," manager Joe Kerrigan said. "I'm not going to make a decision five or 10 minutes after the game. We'll do it the right way."
Martinez didn't talk after the game, leaving Yankee Stadium shortly after he was relieved. He did issue a statement.
"My arm got heavy after throwing all those pitches in the second inning, so I didn't want to run the chance of hurting my arm anymore," he said. "We'll see how it goes. I'll talk to Joe and we'll make a decision depending on how I feel."
Martinez's health has been the subject of heated debate in Boston this week, with the pitcher saying he was diagnosed with a minor tear in his rotator cuff and the Red Sox saying the injury is only a thinning of the rotator cuff.
"He pitched because he wanted to pitch, he's healthy enough to pitch and we're still in the race," Kerrigan said.
However, any semblance of a pennant race has ended the past eight days as the Yankees built their largest lead since the end of the 1998 season. Boston, in contrast, has lost 11 of 12 games and appears on the way to its 83rd straight season without a World Series title.
Martinez (7-3) was unable to win against the Yankees once again. He is winless in seven starts since beating the Yankees on May 30, when he said he would hit the Babe Ruth with a pitch. He allowed three runs in a 33-pitch second inning more than he gave up in 13 of his first 17 starts this year before leaving after a scoreless third inning.
In six starts against New York this season, Martinez went 1-2 with a 2.37 ERA and three no-decisions all Red Sox losses.
The game was less important to the Yankees than getting another strong performance out of Orlando Hernandez (2-6). El Duque was winless in his first 11 starts this season missing 21/2 months with an injured toe but has won his last two. The Yankees are counting on Hernandez in the postseason, where he is 8-1 in his career.
He gave up two runs and four hits in seven innings, but retired the last 13 batters he faced and allowed only one hit after the first inning.
Mariano Rivera pitched the ninth inning to match his career best with his 45th save.
Yankees shortstop Derek Jeter missed the game with a strained left hamstring and will likely miss the entire series.
A's 9, Devil Rays 3
Oakland, Calif. Eric Chavez, Johnny Damon and Greg Myers hit two-run homers and Oakland extended its AL wild card lead to 11 games. The victory, coupled with Boston's loss at New York and Minnesota's 7-3 defeat at Anaheim, increased the A's margin over both the Red Sox and Twins.
Oakland's magic number for clinching a playoff spot is 12. Jermaine Dye added a solo homer for Oakland. Dye has 43 RBIs in the 41 games he has played with the A's since being obtained in a July trade with Kansas City.
Angels 7, Twins 3
Anaheim, Calif. Bengie Molina, Scott Spiezio and Tim Salmon homered as Anaheim defeated Minnesota. The Twins stayed seven games behind Cleveland in the AL Central. Molina's fifth homer, a two-run shot, and Spiezio's 13th of the season highlighted a four-run second inning off Kyle Lohse (4-7). Ramon Ortiz (12-8) set a career high for victories.
Mariners 10, Orioles 1
Seattle Bret Boone set an AL record for home runs by a second baseman, and Paul Abbott (15-3) pitched two-hit ball for eight innings as Seattle reduced its magic number for winning the AL West to five over Oakland. Boone put the Mariners ahead 6-0 with a two-run homer, his 34th overall, in the third. His 33rd home run while playing second base broke the mark of 32 set by Joe Gordon for Cleveland in 1948.
White Sox 10, Indians 7
Cleveland Ray Durham matched career-highs with four hits and four RBIs for Chicago. Rocky Biddle (7-8) beat the Indians and Dave Burba (10-10) for the second time in a week. Keith Foulke pitched the ninth for his 38th save.
Blue Jays 2, Tigers 1
Detroit Carlos Delgado drove in two runs, including a tiebreaking single in the eighth. Toronto has won three straight over the Tigers, who have lost six of seven overall.
Copyright 2018 The Associated Press. All rights reserved. This material may not be published, broadcast, rewritten or redistributed. We strive to uphold our values for every story published.