Starkville, Miss. — Mississippi State needed a quick fix.
Bulldogs coach Jackie Sherrill knew he would have a championship offense this season, but his defense was paper thin. So, Sherrill and his staff scoured the junior colleges for players who could be ready to play immediately.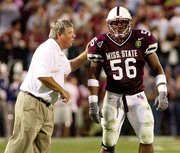 The Bulldogs signed 10 junior college transfers, plus another transfer from a preparatory school, and their defense was rebuilt and ready by opening night.
With newcomers plugging holes in the secondary and line and providing much-needed depth, No. 18 Mississippi State allowed just 162 yards in a 30-10 victory over Memphis on Monday.
"It looks like we did a nice job in picking them," defensive backs coach Melvin Smith said.
Mississippi State considers itself a junior college-friendly university. School officials said 46 percent of the current undergraduate class has attended a junior college, and that's about the norm.
Junior college transfers, often stigmatized as underachievers, can easily assimilate at Mississippi State, Sherrill said.
"They have the ability to have success academically. Success socially. Success athletically," he said. "They fit in."
Never have the Bulldogs needed so much so much so fast.
Three starters from last year's five-man secondary had moved on, including the All-American Smoot.
The defensive line was in even worse condition.
Three quality big men had left, including two drafted by the NFL. Replacements would not be found on the roster.
"We had more needs defensively than we've had before, especially on the defensive line," Sherrill said.
"In '99, we were the best in America defensively and last year we were a little bit behind, so I don't think we did a good enough job the previous year recruiting junior college kids, so we kind of hurt ourselves depth-wise," defensive line coach John Hendrick said.
The fact that the Bulldogs were so strong in other areas increased the urgency. An offense that averaged more than 31 points per game returned almost every key player. The returning defensive starters were potential all-stars such as safety Pig Prather, defensive end Mario Haggan and defensive tackle Dorsett Davis.
"We had a chance to be a good team if we could fill in some gaps that were open," Hendrick said.
Copyright 2018 The Associated Press. All rights reserved. This material may not be published, broadcast, rewritten or redistributed. We strive to uphold our values for every story published.