Miami — In the city's worst police scandal since the days of "Miami Vice," 13 current and former officers were accused by federal prosecutors Friday of planting guns, lying to investigators and otherwise trying to cover up four shootings in which three people died.
In one of the shootings, a SWAT team fired 123 bullets into an apartment during a 1996 drug raid and then lied about finding a gun in the hand of the dead 73-year-old man inside, the FBI said.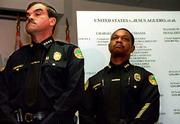 The investigation also involved the deaths of two young black men who were shot in the back by officers after stealing purses on a highway ramp.
All of those charged were veterans assigned to SWAT teams, narcotics units or special crime-suppression teams in the late 1990s.
Prosecutors said that in at least three cases, police planted guns at the scene to justify shootings by officers.
"These officers put a stain on the badge of every hardworking, honest, faithful, honorable police office who puts his or her life on the line every single day," U.S. Atty. Guy Lewis said.
Lewis said the officers "planted weapons, they lied about their roles in the shootings, they lied about what they saw, they falsified reports, they tampered with crime scenes."
He also said the officers stole money, guns and other property from people in unrelated cases and later planted the weapons at police-involved shootings.
Eleven officers were arrested Friday on an indictment charging them in a plot to obstruct justice and violate civil rights. Two retired officers pleaded guilty to conspiracy earlier this week and are cooperating with investigators.
"This is painful, but this is something we have to go through to get better," Police Chief Raul Martinez said.
Miami Mayor Joe Carollo said he sent a letter to Lewis urging the Justice Department to launch a "top to bottom review" of the Miami Police Department. He said he did not know how soon the probe could be carried out, saying he was sure "the U.S. Attorney would take the right steps."
The mayor also said he expected more officers to be charged.
All but one of the 11 indicted officers were freed on $100,000 bail. If convicted, they face five to 25 years in prison.
Several officers refused to comment. Defense attorneys dismissed the allegations as more spectacle than substance.
Copyright 2018 The Associated Press. All rights reserved. This material may not be published, broadcast, rewritten or redistributed. We strive to uphold our values for every story published.