WEST DES MOINES, IOWA — Mike McCullough and Bob Gilder shot a 3-under-par 68s Friday to take the early lead in the soggy, weather-plagued Allianz Championship.
Two thunderstorms packing heavy rain and high wind played havoc with the first-year senior tournament, the first delaying the start by four hours and the other resulting in a 2-hour, 15-minute suspension.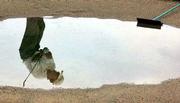 The stormy weather rolled through a day after a possible tornado ravaged the Glen Oaks Country Club course during the pro-am competition. When Friday's play finally was called off for the day under darkening skies, 51 of the 78 golfers were still on the nearly deserted course.
Among them was Gil Morgan, who was 6 under with two holes left. Morgan and the others will finish their rounds this morning. Groupings then will be redrawn for the second round.
"It's a long day. You guys feel it, we do, too," said McCullough, who arrived at the course expecting tee off at 7:30 a.m. and did not finish until shortly after 6 p.m.
"It was a good, solid seven hours of golf and concentrating a lot, which was hard to do."
Spectators were barred from the course because of the stormy weather. What galleries there were consisted of a few hundred club members and residents of the Glen Oaks housing development, enough to deliver a smattering of applause for a good shot.
"We had a few people, so it wasn't just disastrous," Morgan said. "At the same time, if you're playing well, you'd like to have some people there to appreciate some of the shots you're making."
Bobby Wadkins, Isao Aoko and Jay Sigel all came in at 2 under. Doug Johnson, David Lundstrom and Dana Quigley were 3 under.
McCullough, who plays in sandals instead of regular golf shoes, birdied his first two holes and finished with six birdies and three bogeys. He knocked in a handful of long putts, including a 50-footer for birdie on No. 2 and a 30-footer for birdie on No. 9.
A winner twice this year, McCullough rolled in a straight-ahead 12-footer to save par on No. 12, which was his third hole of the day.
Morgan strung together three straight birdies after nifty approaches with his 9-iron, twice getting to 6 feet and hitting to 3 feet the other time. He had just one bogey to go with seven birdies.
Now, he said, he needs to finish the round well Saturday.
"You're always concerned if you're going to continue it the next day," Morgan said. "I don't want to go out and make a mistake early and put myself in a bad frame of mind."
The weather dealt a cruel blow to the tournament, which had been highly anticipated in the area and drew a classy field that included the top 15 money winners on the senior tour and golfing icon Arnold Palmer.
"It's nice to be here," Palmer said. "I wish we could do something magic to this weather."
What the senior tour's on-site meteorologist called a "developing tornado" tore through the heart of the course on Thursday, knocking down leaderboards, collapsing the roofs of two skyboxes, toppling a semitrailer and littering the grounds with tree limbs.
Crews worked all night to repair the damage and clean up the debris and the course was ready for the tournament's start Friday morning. Then a storm roared in, carrying 60 mph wind and rain so heavy it forced motorists on nearby Interstate 35 to pull off until it subsided.
The two skybox roofs collapsed a second time and a catering company's tent that had been destroyed on Thursday was torn up again.
"I felt like I had been kicked," tournament director Hollis Cavner said.
Cavner said officials decided to keep fans away because parking lots were too muddy and more severe weather was possible.
"What would happen if we get another storm like that at two o'clock today and we've got 20,000 people out here?" Cavner said. "It's not worth it to us."
Copyright 2017 The Associated Press. All rights reserved. This material may not be published, broadcast, rewritten or redistributed. We strive to uphold our values for every story published.