Taking a spin with David "Junior" Jones in his 1983 midnight-blue Buick Regal coupe is like hopping on an amusement park ride.
You go up, you go down, you tilt all around. And you hold on tight, hoping you can make it to the end.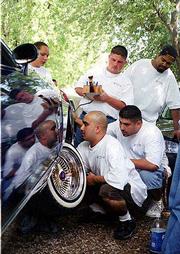 When you emerge from the ride feeling a little jelly-legged your first reaction is, "Cool! I want to go again!"
Jones, 19, is a member of a new Lawrence car club, the 4GOTN1s. (Read: the forgotten ones.)
His prized car, known as a "low rider," illustrates what the multiracial, all-ages club is about fixing up your set of wheels to be the most ornate, beautiful and outrageous that it can be.
One wild ride
Jones' Buick is outfitted with a full hydraulic system that can raise and lower each corner of the car independently.
Using a control panel shaped like a guitar and bristling with 15 blue switches, Jones can lift the front corners by 8 inches and the back corners by 10 inches.
The system is powered by eight deep-cycle marine batteries (typically used to power boats), four electric pumps and hydraulic fluid that circulates through thick rubber hoses. The car's chassis is reinforced to absorb all the up-and-down motion.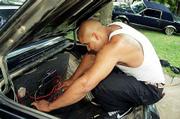 The result is one wild ride.
"I just drooled over this car when I went and saw it for the first time. It's been in a lot of (car) shows," Jones says, smiling as he runs his eyes over the Buick.
The car also features custom paintings of Aztec warriors on the hood and trunk, an interior swathed in crushed blue velvet, special chrome and gold-plated wheel rims, and an audio system with four 15-inch subwoofer speakers that can unleash a tsunami of sound.
Jones won't reveal how much he spent on the car, which he bought a few months ago from a man in the Kansas City area. But he will say it has about $23,000 of special equipment on it.
Mark Shepherd, 23, another 4GOTN1 member, explains the common passion that unites the club's 30 or so members.
"Everybody has the same goal as me: to fix up your car. Appreciation for your ride is universal," he says.
Interest in tricked-out, souped-up automobiles cuts across race, creed, color, gender and age.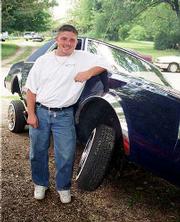 "If you like your car, you like your car," Shepherd explains.
His particular ride is a 1991 white Lexus LS400 sedan, to which he's added $2,000 chrome wheel rims, two 12-inch subwoofers and a 500-amp Rockford Fosgate amplifier.
How much has he spent on the car so far? "Too much," Shepherd says ruefully, shaking his head.
No ride required
The car club grew out of discussions during the last year among Ramon Garcia, 34, and his brothers, Arlindo, 30, and Tony, 20. Ramon is club president, Tony is vice president.
The 4GOTN1s Car Club of Lawrence is open to anyone who's interested in cars and working to fix them up.Potential members need to fill out an application and pay a $30 fee, which serves as the first year's membership dues.For more information, contact Ramon Garcia, club president, at 331-0154.
Out of an interest in fixing up cars, shared by the Garcias and a wide circle of their family members and friends, the 4GOTN1s officially formed at the start of this summer.
Those who belong to the club there's a $30 application fee that covers a year's dues get together often to work on cars, exchange ideas and just hang out at barbecues and other social gatherings.
Members guide each other toward the best places in Lawrence and Kansas City to buy parts and occasionally attend low-rider car shows.
"You don't even need to have a car to belong you can become an honorary member of the club," Ramon says.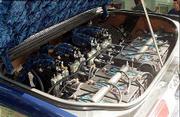 Nor do you have to only be interested in low riders, cars that have been "chopped" and lowered several inches nearer to the ground to give them a sleek look.
All you need is an interest in cool cars and improving them. Even children have joined the club, wowed by their older brothers' fancy autos.
Members love the attention their cars get while they cruise through town. That's the payoff for lots of elbow grease and hard-earned cash.
"Our motto is 'low and slow' it gives everybody a chance to look at you," Ramon says.
Copyright 2018 The Lawrence Journal-World. All rights reserved. This material may not be published, broadcast, rewritten or redistributed. We strive to uphold our values for every story published.