Good morning, Lawrence High.
On Friday night for the second week in a row, LHS football was postponed because of lightning and rescheduled for an early Saturday kickoff. The Lions and Shawnee Mission Northwest will try again this morning at Haskell Stadium. Kickoff has been set for 10 a.m. There will be no admission charge to the makeup game.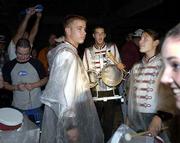 Lawrence's season opener against Shawnee Mission East on Aug. 30 at SM South was postponed because of lightning and played two days later. LHS also had a game postponed last September with Kansas City Washington because of lightning. The Lions' fall sports jamboree on Aug. 22 also was delayed because of storms.
"I've coached for 25 years, played for another seven or eight and never had it happen before," said LHS coach Dirk Wedd, whose squad returned to the high school locker room 45 minutes after the game was called. "Now it's happened three times in less than a year."
Unlike the previous two postponements, Friday's LHS-SM Northwest game actually started. The makeup today will resume with LHS (1-0) facing third-and-four at SM Northwest's 48-yard line with 9:10 left in the first quarter and the score at 0-0.
SM Northwest (1-0) had one offensive series. The Cougars ran three plays for minus-eight yards. LHS senior defensive end Richard Mumford provided the defensive highlight. Mumford blind-sided SM Northwest quarterback Matt Landess for a sack, resulting in a six-yard loss.
The Lions ran just two plays a four-yard run by Brandon McAnderson and a two-yard run by Chris Johnson before lightning, rain and wind gusts ranging to 60-80 mph bombarded Haskell Stadium.
The game was called at 7:45 p.m. The football teams took shelter in the new locker rooms under the south side of the stadium. Fans slowly took shelter under the north side. No message was relayed to the fans as the public address system malfunctioned as the storm hit. Power at Haskell went off approximately 8 p.m.
"Like I told their kids, it'll be something they can tell their kids and grandchildren about because nobody will believe it," Wedd said.
Wedd said the Lions planned to hang their uniforms in their lockers overnight and "hopefully they'll dry out."
Haskell Indian Nations University officials told LHS that they didn't want the makeup to start any later than 10 a.m.. HINU has its home football opener scheduled for 7 tonight against McPherson.
Rain remains in the forecast for today.
"We're going to feed them breakfast at 8 this morning here at the high school and start the whole process again," Wedd said.
If LHS and SM Northwest were unable to play today, Wedd said the game might be made up Monday night.
Copyright 2018 The Lawrence Journal-World. All rights reserved. This material may not be published, broadcast, rewritten or redistributed. We strive to uphold our values for every story published.