Chicago — Andruw Jones watched the ball sail toward the left-field fence and threw his bat down, cursing at what he thought was a popup.
But Wrigley Field is a wacky place when the wind is blowing out. An extra puff of wind carried the ball over the fence, turning Jones' popup into a ninth-inning homer that gave the Atlanta Braves a 3-2 victory over the Chicago Cubs.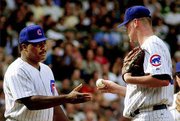 "It was probably my cheapest home run," Jones said. "But it was a game-winning homer."
Fred McGriff hit a two-run homer for the Cubs, who lost their third straight and dropped 51/2 games behind Houston in the NL Central. Atlanta, seeking its 10th straight division title, took a season-high 31/2-game lead over Philadelphia in the NL East.
Kyle Farnsworth (4-4) gave up Jones' homer and another hit. Steve Karsay (3-3) pitched the eighth, and John Smoltz struck out the side in the ninth for his sixth save.
Greg Maddux and Kerry Wood had an outstanding duel going for six innings. Maddux allowed only two hits, though one of them was McGriff's homer.
On the disabled list since Aug. 4 with tendinitis in his right shoulder, Wood didn't show any signs of rust. He had six strikeouts and allowed only five hits in six-plus innings.
Expos 4, Phillies 2
Montreal Javier Vazquez (16-11) won his sixth start in a row, allowing two runs and four hits in eight innings with nine strikeouts. Philadelphia has lost five of six. Lee Stevens tied it at 1 with an RBI double to left field off Brandon Duckworth (2-1) in the second and Michael Barrett hit a go-ahead sacrifice fly.
Mets 6, Marlins 1
Miami Rey Ordonez homered and drove in three runs and Glendon Rusch (7-10) scattered eight hits in his first complete game of the season as New York won its fifth straight.
Pirates 3, Reds 1
Pittsburgh Tony McKnight (3-3) gave up only a third-inning run and six hits in 62/3 innings and struck out six. Omar Olivares got four outs for his fourth career save, his first since 1994. Lance Davis (6-3) gave up two runs and five hits in five innings.
Astros 5, Brewers 3
Houston Wade Miller beat Milwaukee for the fifth time this year as Houston increased its NL Central lead to a season-high 51/2 games. Miller (16-7) struck out 10 and gave up one run in eight innings.
Dodgers 7, Cardinals 1
St. Louis Shawn Green homered twice off Dustin Hermanson (12-12) to set a Dodgers' franchise record with 45 this season and went 4-for-5. Duke Snider hit 43 for Brooklyn in 1956 and Gary Sheffield hit 43 last year. Kevin Brown (10-4) allowed only an unearned run and two hits in 61/3 innings.
Rockies 3, Giants 2
Denver Pinch-hitter Ben Petrick singled home the winning run in the 12th inning and Colorado, despite Barry Bonds reaching base six times, beat San Francisco. Bonds, leading the majors with 60 home runs, went 3-for-3 with three walks. He hit a tying double in the eighth inning. With 20 games remaining, Bonds needs 10 homers to tie the record of 70 set by Mark McGwire in 1998. The Giants dropped a half-game behind Los Angeles in the NL wild card race.
Padres 4, D'backs 3
Phoenix Mike Colangelo, recalled from Triple-A Portland last weekend, hit a solo homer in the eighth to lead San Diego over struggling Arizona. Phil Nevin hit a two-run homer off Randy Johnson in the sixth inning as the Diamondbacks lost for the sixth time in seven games.
Copyright 2018 The Associated Press. All rights reserved. This material may not be published, broadcast, rewritten or redistributed. We strive to uphold our values for every story published.