LINCOLN, NEB. — This isn't just another home game for Nebraska.
There's a bit more buzz, and it's all about Notre Dame, which will visit Lincoln tonight for the first time since 1948.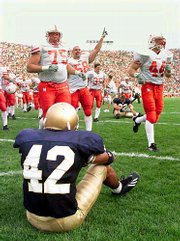 "It's certainly a topic every place you go," said Dick Olson, a retired barber who has lived in Lincoln for 45 years. "It's not just an ordinary football week. There's really a lot of hype."
And Olson has his share of stories from past Cornhuskers football weeks. He used to cut the hair of former Nebraska coaches Bob Devaney and Tom Osborne, as well as a host of Huskers assistants. Olson even trimmed coach Frank Solich's locks when he was a Nebraska fullback in the 1960s.
He doesn't ever remember this much talk for a non-conference game.
"Every news report it's always 'Notre Dame, Notre Dame, Notre Dame,'" Olson said.
Nebraska isn't known for a tough nonconference schedule, so this week is kind of a twist. Notre Dame carries some weight, even though the Irish haven't played a game since losing to Oregon State 41-9 in the Fiesta Bowl.
The game could be the biggest to hit Lincoln since 1987's "Game of the Century II," when No. 2 Oklahoma toppled the top-ranked Huskers, 17-7.
"While it doesn't compare to a bowl game or a nation championship, it's clearly a big game," Nebraska athletic director Bill Byrne said.
It doesn't take a lot to whip Nebraskans into a football frenzy. It's as natural in the fall as the changing leaves and cooling temperatures.
But this game is different. This is Notre Dame, which as much as Huskers fans don't like to admit, has even more of a football tradition than Nebraska.
Red T-shirts that say "Hey Irish" on the front and "The Luck Stops Here" on the back were printed up for the game, and hundreds have been sold. Fans are being asked to wear as much red as possible today for a "Red-Out" at Memorial Stadium, where fans usually wear an equal mix of red and white clothes for games.
The excitement has been building on campus all week. ESPN will air its weekly Game Day program from Lincoln, and ABC television trucks have been parked outside Memorial Stadium all week for today's prime-time broadcast.
Cardboard cutouts of the Game Day crew stand outside a hotel just blocks from the stadium, where a temporary stage has been built for an all-day tailgate party before the game.
Nebraska graduate Lt. Shane Osborn and his Navy crew, who were held in China for 11 days last spring after their plane collided with a fighter, will be honored as guests.
All the hype has motivated ticket brokers to ask for up to $1,500 per prime seat to the game. A ticket's face value is $50.
"It's Notre Dame," said Jeff Kusek, a senior from Alliance. "That's all you've got to say. It's probably the biggest game since I've been here."
Copyright 2018 The Lawrence Journal-World. All rights reserved. This material may not be published, broadcast, rewritten or redistributed. We strive to uphold our values for every story published.