RICHMOND, VA. — Jeff Gordon's championship drive rolled on Friday as the Winston Cup points leader posted a fast lap at 124.902 mph to win the pole position for the Chevrolet Monte Carlo 400 tonight.
Gordon, who has a 342-point lead over Ricky Rudd with 11 races remaining in the season, earned his fourth pole at Richmond by knocking short track specialist Rusty Wallace to the outside of the front row.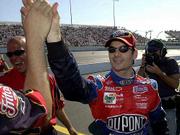 "That was an awesome effort there today," Gordon said, noting he started off near the bottom in practice. "We threw a lot of things at this race car today changed gears three times, and shocks and springs."
The pole is the sixth this season for Gordon, the defending race champion.
In a points race that he's taken control of over the past month, turning a 45-point lead into its more comfortable margin, Gordon said things have just broken right for his team after lots of hard work.
"It's certainly been a great stretch," he said. "It's one of those situations where we've had good race cars, but we've also had good luck. Those two can be great combinations, or bad for the other guys."
Wallace, who was clocked at 124.510 mph, will start second for the fourth time this season. He's still seeking his first pole of the year, this after dominating the series a year ago by starting first nine times.
"I guess the upsetting thing about it is that every single time I've qualified second this year, I got beat right at the very end by Gordon," said Wallace, now second to Gordon three times. "I knew when he had to go out behind me that it was going to be a shootout, but it was a good run."
The front row features possibly the best two short-track racers in stock car racing's premier series, and competitors who have had their share of confrontations on the track and in the pits at Richmond.
In May, both seemed poised to challenge leader Tony Stewart for the victory in a late race restart, but Wallace ran Gordon up the track, slowing both of them down as Stewart went on to an easy victory.
A few years earlier, after leading most of the way, Wallace was passed by Gordon and immediately bumped him from behind in the second turn, sending Gordon slamming into the wall in the midst of the title chase.
Both confrontations, and many others between the two, have ended with Gordon seething, Wallace acting surprised and the tension festering.
But Gordon said things have improved between the rivals.
"Our relationship has been pretty interesting," Gordon said. "Early on, I don't know if we got along very well, but recently he and I have had some really good conversations and have joked around quite a bit.
"I think we're understanding better that what happens on the race track is competition. ... I don't think Rusty likes to get beat by anyone, but I can guarantee he doesn't like to get beat by me."
After Gordon's Chevrolet and Wallace's Ford, the second row will have Sterling Marlin in a Dodge and Virginia native Jeff Burton's Ford.
Burton's older brother, Ward, earned the fifth spot, also in a Dodge, and will start just inside Bobby Labonte, the top qualifying Pontiac.
The rest of the top 10 includes rookie Casey Atwood's Dodge, Dale Earnhardt Jr.'s Chevrolet, Rudd's Ford and Ron Hornaday's Pontiac.
Copyright 2018 The Associated Press. All rights reserved. This material may not be published, broadcast, rewritten or redistributed. We strive to uphold our values for every story published.