They feel like Jell-O but burn like the Eternal Flame, and Susan Bourzikas hopes her homemade gel candles will be a hot item Sunday at the 22nd Annual Fall Arts and Crafts Festival in South Park, 11th and Massachusetts streets.
Although she and her husband, Tod, have been showing the scented candles and other home decor items for a year at Lawrence craft shows, it will be the first time for them to join the dozens of other craftsmen and artisans at the fall festival. The Bourzikases' goal is to stock their booth with about 100 candles.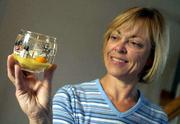 Susan Bourzikas said the candles are made from a mixture of mineral oil and polymer resin that is cooked on her stovetop.
"The gel burns five to eight times longer than wax," Tod Bourzikas said. "A 3-ounce votive lasts 20 hours."
While some candles consist only of gel poured into a pretty glass container or small fish bowl, other candles are made by pouring the gel over glass objects suspended in the containers. For example, some of the candles contain aliens and spaceships or wizards and dragons. Others have candy corn for Halloween or reindeer and snow for Christmas.
"Cinnamon, bayberry, pumpkin spice, sea mist, vanilla," Susan Bourzikas said, listing the candles' scents. " The possibilities are endless. You just have to use your imagination."
What: 22nd Annual Fall Arts and Crafts Festival.When: 10 a.m.-5 p.m. Sunday.Where: South Park, near 11th and Massachusetts streets.In addition to the arts and crafts fair, other events include:Children's events train rides, 10 a.m.-5 p.m., $1; wading pool, ages 6 and under accompanied by an adult, 1 p.m.-4 p.m., free; paint and play pen, 1 p.m.-4 p.m., free.Mass. Street Mile Run registration at 8 a.m., run at 10 a.m., $11 for children; $13 for adults.Musical entertainment Billy Spears Band, noon; Lonesome Hobo's, 1 p.m.; Lonnie Ray's Blues Band, 2 p.m.; Paul Gray Gaslite Gang, 3 p.m.; Key West Jazz Quartet, 4 p.m.
The Bourzikases' candles, marketed under the brand Misty Mountain Ventures Inc., are sold at Prairie Patches, 821 Mass., and on their Web site, www.mistymtnventures.net. Prices range from $3 to $24.
From 8,000 to 10,000 people are expected to visit the fall festival, according to Duane Peterson, special events coordinator for Lawrence Parks and Recreation.
A new event is the Mass. Street Mile Run, which will challenge participants to run from South Park to Francis Sporting Goods, 731 Mass., and then back to the park. Age divisions range from 5 to 70, and winners in each age category will receive awards.
Entry fee is $11 for children and $13 for adults. Registration begins at 8 a.m., with the race starting at 10 a.m.
If it is raining Sunday morning, organizers may decide to reschedule the festival for Sept. 16.
Copyright 2018 The Lawrence Journal-World. All rights reserved. This material may not be published, broadcast, rewritten or redistributed. We strive to uphold our values for every story published.