Myron Melton's crew at Langston Hughes School are chart-toppers.
In the latest round of statewide testing released Friday, last year's group of fourth-graders at Langston Hughes had the best combined math score among Lawrence elementary schools. And their fifth-graders last year had the highest cumulative reading score in the district.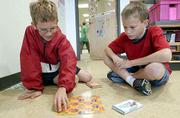 "I really feel like the credit goes to a lot of people. These students went to kindergarten through third grade in other buildings throughout the community," said Melton, who is in his second year as principal at Langston Hughes.
The students' keen math sense put the school in the company of two other district schools Hillcrest and Wakarusa Valley. The trio achieved the state's math "standard of excellence," based on raw scores and other factors.
Langston Hughes' score was 75.3, with Hillcrest at 67.6 and Wakarusa Valley at 62.8. The district average was 58.3, with the state average 56.0.
The district also unveiled scores on the state's reading exam, but no schools achieved the standard of excellence in that subject. Reading scores dropped at most elementaries, each of the four junior highs and at both high schools.
Last year, Hillcrest attained the standard of excellence in math, and three schools Deerfield, Quail Run and Pinckney reached that level in reading.
Supt. Randy Weseman said the district's improvements in math were laudable, but the assessments make it clear reading must be an area of greater focus.
"We certainly have work to do," Weseman said.
District staff will present an analysis of reading and math assessments Monday to the Lawrence school board.
Results of other state tests, including new science and social studies exams, should be available in October.
Marlene Merrill, the district's director of assessment, said parents interested in individual scores of their children can get that information by making an appointment with officials where their kids attend classes.
"I would do that," Merrill said. "I'd say, 'I want to know what these scores are, and tell me what they mean.'"
While three Lawrence elementary schools attained the standard of excellence in math, scores on that subject declined at five district schools. Those slipping: Centennial, Cordley, Schwegler and Woodlawn schools, and Lawrence High School.
The biggest improvement was at Wakarusa Valley, followed by East Heights and Quail Run.
In reading, 11 of the district's 19 elementary schools, all four junior highs and both high schools had lower scores. The most significant progress was at Grant School, while Pinckney recorded the largest decline.
West Principal Mick Lowe said he wasn't pleased by his school's 1.7-point drop in reading.
"We're going to make sure that our reading scores get better," he said. "We're putting together a massive attack on reading. That's the keystone of kids' success."
Disparity among elementary schools was most apparent on the math exam, Merrill said.
Cumulative scores ranged from 44.5 at Kennedy to 75.3 at Langston Hughes. Scores on reading ranged from 73.7 at East Heights to 86.1 at Langston Hughes.
"We have a large variety of schools," Merrill said. "We do have three buildings with rates of poverty of 80 percent or more. And we have others as low as 6 percent."
She said students in poverty generally didn't have as many opportunities as wealthy children to prepare for school. There might not be as many books in the home or not be able to experience a zoo, concerts or the arts.
"You get gaps in learning," Merrill said. "Those teachers have to take these kids further."
Kansas Reading Assessments 2001 - Grades 5, 8, and 11
Kansas Mathematics Assessment - Grades 4, 7, and 10
District and Building Score Reports
KS Reading 2000 Total Score
KS Reading 2001 Total Score
KS Math 2000 Total Score
KS Math 2001 Total Score
Broken Arrow
85.8
83.1
52.4
56.9
Centennia
84.9
80.7
53.1
52.4
Cordley
83.0
83.2
53.8
49.3
Deerfield
87.9
84.6
56.4
61.3
East Heights
72.1
73.7
35.9
46.1
Grant
74.9
83.2
53.5
56.8
Hillcrest
87.1
84.3
65.5
67.6
Kennedy
76.3
75.6
42.1
44.5
Langston Hughes
86.1
75.3
New York
77.1
83.4
51.3
53.5
Pinckney
86.3
81.5
51.6
52.6
Prairie Park
80.5
78.8
48.1
59.0
Quail Run
87.6
84.9
54.9
64.6
Riverside
83.5
82.3
56.9
61.9
Schwegler
84.0
83.1
55.4
52.7
Sunflower
85.8
85.5
58.8
59.6
Sunset Hill
83.8
84.1
54.4
61.7
Wakarusa Valley
84.2
84.9
51.7
62.8
Woodlawn
76.6
80.8
50.6
49.0
District Elementrary
84.0
82.9
53.6
58.3
Kansas
81.2
81.3
53.8
56.0
Central Junior High
80.6
78.1
46.4
52.4
South
82.4
82.1
51.1
53.1
Southwest
84.7
83.0
56.0
60.5
West
85.1
83.4
58.5
58.8
District Junior High
83.3
81.8
53.2
56.5
Kansas
81.4
81.2
50.3
51.7
Lawrence High
81.0
80.8
52.3
50.2
Free State High
80.6
79.5
50.7
54.2
District
80.8
80.2
51.5
52.0
Kansas
79.6
79.2
46.5
47.5
Copyright 2018 The Lawrence Journal-World. All rights reserved. This material may not be published, broadcast, rewritten or redistributed. We strive to uphold our values for every story published.