Thomas
W.L. and Betty Thomas, Meriden, will celebrate their 50th wedding anniversary with an open house from 2 p.m. to 4 p.m. Sept. 16 at their daughter's home.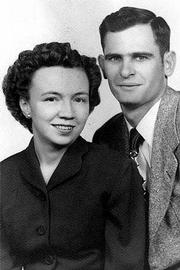 Betty Jean Funk and W.L. Thomas were married Sept. 17, 1951, at Ivanhoe Park Christian Church in Kansas City, Mo.
Their children are Kevin and Judy Thomas, Spring Lake, N.C., and Marla and Earl Rice, Meriden. The couple have three grandchildren.
Mr. Thomas retired in 1980 from Seaboard Milling Corp. of Kansas City. Mrs. Thomas is a homemaker. The couple formerly lived in McLouth.
Copyright 2018 The Lawrence Journal-World. All rights reserved. This material may not be published, broadcast, rewritten or redistributed. We strive to uphold our values for every story published.