Kansas University moved up three slots in this year's U.S. News and World Report rankings of the best universities in the nation.
KU was ranked 39th in the ratings released Thursday. It was ranked 42nd last year.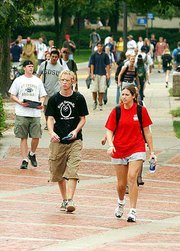 But two university programs business and engineering didn't fare as well. The business school dropped to 44th from 41st, and engineering dropped from 67th to 77th.
The U.S. News rankings for universities are determined by 16 indicators such as graduation rates, retention rates and faculty-student ratio. The magazine ranked 249 universities.
Chancellor Robert Hemenway credited an increase in research funding for helping KU's rank. The university spent $193 million on research last year, up 15 percent from the year before.
"In these times of intense competition among the nation's universities for the best students and for research funding, it is gratifying to see KU's reputation remains strong and growing," Hemenway said.
This year's ranking is still lower than 1998, when KU was 38th. Hemenway has set a goal of being in the top 25 public universities in the U.S. News and other rankings by 2010. He wants to be in the top 25 of all universities by 2020.
Carl Locke, dean of engineering, said he wasn't concerned by his school's drop in the U.S. News rankings. The magazine ranks individual programs by a reputation among deans.
"The importance is U.S. News and World Report sells a lot of magazines because of those rankings," Locke said. "The way the undergraduate programs are ranked is like a beauty contest because the only way those rankings are put together is through one survey of engineering deans."
Bill Fuerst, KU dean of business, did not return phone calls Thursday.
Copyright 2018 The Lawrence Journal-World. All rights reserved. This material may not be published, broadcast, rewritten or redistributed. We strive to uphold our values for every story published.