Our waitress at Shalor's was a student no surprise there but more to the point, a history major. I found this fitting, since it emphasized the fact that the best reason to go to Shalor's, located in the Eldridge Hotel downtown, is to enjoy the historical ambiance.
The hotel's history is tied to that of Lawrence itself (if you don't know the eventful chronicle of its construction, take a walk through the lobby), and it exudes that sort of dusty Western appeal that mixes fancy furnishings with a relaxed attitude. It's true that Shalor's serves fairly good food, but the real draw is the lively legacy of its host hotel.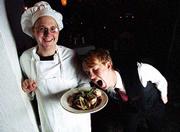 From our Mass. St.-facing position, we were swaddled in the brocade-and-tasseled ornamentation of the formal dining room, while simultaneously observing a seriously scruffy anti-capitalism protest in the street. It was a great past-collides-with-present experience that should suit history buffs, civic-minded downtowners and aficionados of free entertainment everywhere.
Every hotel restaurant has, to some degree, a built-in clientele. The best ones also serve their home communities, those diners operating under their own free wills and not the dictatorial rule of a Chamber of Commerce map or, worse, the recommendations of a museum gift shop cashier. Shalor's can attract this more discriminating audience, largely because of its choice location, but also with food that is satisfying if not superb.
When the Eldridge first opened, I'd venture that few diners in Lawrence had ever heard of a portabella and brie quesadilla, much less tried one. Ditto for shrimp and scallops in cioppino, saut with tapenade in a spicy seafood broth and dotted with saffron Israeli couscous. The Eldridge may be steeped in history, but Shalor's has embraced contemporary cuisine.
Inventive and familiar
Off the appetizer menu were "light and lemony" poached salmon latkes, which came with mint yogurt sauce, and Asian-influenced grilled duck spring rolls. For these, strips of duck breast were marinated in "soy sherry," then stuffed into rice paper with fresh mint and vegetables. They were arranged on a plate with drizzles of cilantro oil and spoonfuls of ginger sauce. I found them adequate but somewhat lacking in the explosion of tastes that marks the best Asian cooking.
For the soup of the day, Shalor's offered a cream of forest mushroom. This did not get lost in the forest of mushrooms, but instead pointed unfailingly southwest with corn, black beans and a spicy undercurrent. Again, it was all right, but struck me more as a spontaneous concoction from that afternoon rather than a considerate creation honed to perfection over time.
A highlight of dinner was the delicious house salad, an inventive and tasty mix of green and red lettuces, gouda cheese and candied walnuts. You didn't get to choose your dressing, which may disappoint rabid Blue Cheese fans out there; instead, the chef "engineered" a special vinaigrette designed to complement this particular salad. But don't worry, it's good.
More to the heart of good-old Midwestern cooking was the mixed grill of beef tenderloin and quail; this came with whipped cannelini beans and vegetable of the day. The medallions of beef had a tasty coating of pepper, but this flavor is mostly limited to the outer layer. Fans of plain beef should like it; those who prefer more of a punch may need some steak sauce. I liked the rich taste of the baked quail wings; they were nearly too delicate to eat efficiently with a fork, but worth the effort.
The cannelini beans were an interesting accompaniment. These assumed the role that garlic mashed potatoes fill in many restaurants, but their flavor was much milder. They're bland when eaten with the meats, but assume more personality when eaten alone.
The ubiquitous Kansas City strip has entered the new century at Shalor's with a brown sugar peppercorn rub and a chipotle raspberry barbecue dipping sauce that gave it an extra kick. It's served with two very straightforward vegetables: smoked cheddar potatoes and piles of saut green beans.
My favorite dish was perhaps the least ambitious of those we tried, a chicken marsala composed of two medallions simmered in a Marsala wine and chicken stock reduction with tomatoes, mushrooms and peppers, and served over bow-tie pasta. The poultry made it hearty, the vegetables gave it variety and the wine contributed a kind of tart airiness to the mix. Pulling it all together was a generous sprinkling of pepper.
Shalor's imports most of its desserts, so everything is respectable but nothing is outstanding. Our selection included three sorbet choices, a couple of cheesecakes, a berry flan and an apple tart.
Our service was thorough and gracious, incorporating some of the pomp of the past without straining the circumstances of a more relaxed present. Blending the two compromises both a little bit, but Shalor's proves it can work. Here, you can visit the 19th century, and have your roasted shallot vinaigrette, too.
Copyright 2018 The Lawrence Journal-World. All rights reserved. This material may not be published, broadcast, rewritten or redistributed. We strive to uphold our values for every story published.