Leaving a tape recorder unattended during the middle of an interview can lead to dangerous consequences. When the recording of a recent conversation with Kansas City tunesmith Big Jeter is played back, a whispering voice offers a subtle but strong hint, "Give Big Jeter the cover. You are going to do whatever it takes to give us the cover. Do whatever it takes to put us on the cover of this week's issue and EVERY issue of The Mag."
This brief sample offers a more direct view of the band's grand ambitions than the members usually let on. Asking questions to Big Jeter can be a tricky experience. It becomes a lot more entertaining if you don't expect any straight answers. For example, when asked how they got together, the members (most of whom are well under 40) claim to have met on the early '70s TV show "Hot Dog."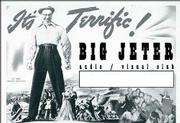 Considering the kind of movies they host, this jocularity is actually an asset. Since February, Jeter and his cohorts have been hosting charmingly cheesy or deranged flicks at midnight every first Saturday of the month at the Fine Arts Theater in Mission. In that venue, they've presented such movies as the Rudy Ray Moore blaxploitation classic "Dolemite" and the fantastically gory Japanese favorite "Shogun Assassin."
Today at 10 p.m. at Liberty Hall, the band, which usually consists of bassist Spanish Grover, keyboardist Gladiola Ditchwater, drummer Munchmaster Flash, Jeter himself and a sax player he dubs "my retarded cousin Bo," will be presenting the Lawrence debut of the Big Jeter Audiovisual Club and its flick of the moment, 1981's "Night Warning." The film will be accompanied by two songs that the musicians have prepared just for the occasion.
"We always do an original number, and then we come out and sing a song," Jeter says.
In addition, Jeter will be showing some off-the-wall but appropriately themed trailers. And before the show, he will project a featurette in the lobby. All of this entertainment comes for $5 a ticket.
'Night' sweats
"Night Warning" is a little different than some Big Jeter offerings. It's more insane than inept. Jimmy McNichol (the brother of "Family" star Kristy) stars as a callow, dim high school basketball player who lives with his off-kilter aunt (played with deliciously hysterical gusto by Susan Tyrrell of "Fat City"). Loaded with oppressive symbolism (Tyrrell vigorously chops up phallic-shaped vegetables while verbally belittling McNichol), the movie's main focus is on how McNichol must defend himself against a mean-spirited local lawman (Bo Svenson, "Walking Tall 2") who thinks he committed a murder.
What: Big Jeter Audiovisual Club featuring "Night Warning"When: 10 p.m. todayWhere: Liberty Hall, 644 Mass.Rating: $5Ticket information: 749-1972
The only way for McNichol to confirm his innocence is to prove that he's heterosexual. This is a little tough because his girlfriend, played by a briefly topless Julia Duffy from "Newhart," is having her doubts and a bully (a then unknown Bill Paxton) ridicules him as "Coach's No. 1 wimp."
Cornered at the Borders in Overland Park, with Ditchwater and Clem, Jeter explains the film's fascinating and locally tied origins. "I have more information on 'Night Warning' than you have blank tape. Richard Carrothers and Dennis Hennessy now keep Don Knotts in gravy over at the New Theater (in Overland Park). They had a production company, and they put this movie together.
"They thought Paramount would pick it up because (then studio honcho) Barry Diller was gay. Then, Burt Reynolds told them to sell it to Sunn Classics Pictures, who did 'In Search of Noah's Ark' and 'In Search of Historic Jesus.' (Sunn) sold it to video, went under and then lost all their money," he says.
The movie is additionally rare because British authorities dubbed the innocuous movie as a "video nasty," making it all but banned. Nonetheless, Jeter's attachment to "Night Warning" knows no bounds.
"I'm sorry, were you asking me something?" he responds. "I was touching Jimmy McNichol's (in a photographic still) smooth chest. He's a tender chicken. I've invited employees from Church's to come out."
Jeter has even gone to the extent of contacting one of the stars.
"I interviewed Bo Svenson," recalls Jeter. "He didn't remember working on the movie at all."
Parodist's progress
Last Sunday, Big Jeter performed a tight live set of tunes on KLZR's "Local Music Show," including the "Night Warning"-themed, "What Did You See That Made You Gay?" Previously, the group's cinematic adventures have received notice with relatively little publicity.
"The first show had about 15 people," recalls Jeter. "It's gone up. It was all word of mouth. We had a hundred-some people for 'Dolemite,' which was really good."
When asked why they wanted to salute mediocre cinema, Ditchwater chimes in, "It was just there. We didn't form it. It came to us."
One flick in particular is credited with jump-starting the band's big-screen interest.
"There's a movie called 'The Glove,' with that Bernie Casey look-alike Rosey Grier," Jeter says. "He sits a little boy on his lap and teaches him to play a few notes on the guitar."
"He then puts a big metal glove on and smashes things up," adds Clem. "It was the (lousiest) movie we've ever seen. We decided we needed to share the wealth with everybody."
Jeter says, "Some things can't pass without comment. 'Night Warning' is user-friendly. You've got to talk. You've got to laugh to keep from 'urping.'"
If the Liberty Hall gig (or "Puberty Hall" as Jeter calls it) passes you by, Jeter and the group will present "Dolemite" again as part of "Sleaze Under the Stars" Sept. 21 at Kansas City's Boulevard Drive-In. For the next monthly offering at Fine Arts, Jeter will only say, "Midgets are funny" and that the ticket prices will be reduced to $3 accordingly.
Copyright 2018 The Lawrence Journal-World. All rights reserved. This material may not be published, broadcast, rewritten or redistributed. We strive to uphold our values for every story published.