RICHMOND, VA. — Gov. Jim Gilmore created a task force of experts Wednesday to investigate the nation's two fatal shark attacks over the Labor Day weekend.
"With increased shark activity up and down the East Coast, I think that we have to explore ways to make our waters safer or at least find out the facts of what is occurring if anything," Gilmore said.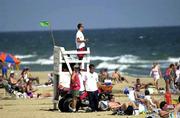 The first attack came Saturday in Virginia Beach, when 10-year-old David Peltier was fatally mauled in the surf.
Two days later, a shark killed Sergei Zaloukaev, 28, and gravely injured his girlfriend, Natalia Slobodskaya, 23, off a North Carolina beach 135 miles away. The couple was visiting from Virginia.
Experts say it was the first time since 1994 that there were two fatal shark attacks in the United States in the same year. But while shark attack reports have inched higher in the past decade, experts say that's because more people are in the water; 2001 is shaping up as an average year.
Gilmore said he assembled the task force after talking with Peltier's parents. Marine biology experts and state and local officials will assess shark populations off the Virginia coast, ways to predict, prevent and respond to attacks and how to educate the public on risks.
"We need to know if this is something that should be reasonably addressed in some way or whether it's just a fact of nature that we have to simply accept so that we can reasonably assess the risk of going into the water," Gilmore said.
"Up to this point, we've all been taught that the risk is so remote that it is something not to be concerned about," he said.
The head of the Virginia Shark Task Force, Natural Resources Secretary John Paul Woodley, said no deadline has been set to report its findings, but he convened the panel's first meeting moments after the news conference announcing its creation.
"Obviously, we do not intend to let this issue linger," Woodley said.
The task force will also determine whether people are doing anything to increase the likelihood of shark attacks.
Gilmore said there are no plans for state-ordered restrictions on beach use, but he expressed concern about the effect the attacks would have on tourism. He also said he regretted that North Carolina declined to join Virginia in forming a two-state task force.
In Florida, which leads the nation in the number of reported shark attacks, wildlife officials said Wednesday that they are considering whether to regulate shark-feeding scuba dives.
The Florida Fish and Wildlife Conservation Commission will consider the regulations during a meeting Thursday. Opponents say the practice, in which tourists watch dive leaders feed chunks of fish to sharks, teaches the animals to associate people with food.
Jeff Torode, president of South Florida Diving Headquarters in Pompano Beach, said the regulations being considered will be disastrous to the industry. "They will put us out of business," he said.
None of the shark attacks in the United States this year came during feeding dives.
Copyright 2018 The Associated Press. All rights reserved. This material may not be published, broadcast, rewritten or redistributed. We strive to uphold our values for every story published.