Hank Thompson is a man of many firsts. The guitarist dubbed the "King of Western Swing" decades ago was the first musician to record in hi-fi stereo, starred in the first color broadcast of a variety show on television ("The Hank Thompson Show") and released the first live country album ("Live at the Golden Nugget in Las Vegas"). Thompson was even the first musician to ever receive corporate tour sponsorship, perhaps the most enduring aspect of his storied legacy. And perhaps the lone blemish on an otherwise spotless track record.
After all, the Nashville, Tenn., music market has become increasingly business-like in the last decade or so, squeezing out authentic artists like Thompson to make room for the hunks and sexpots that currently cross over various charts. Having spent six decades in the studio and on the road, the guitarist has undoubtedly seen quite an evolution in an industry he helped create.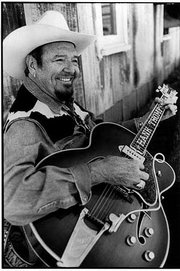 "I think they've evolutionized it right out of the business," Thompson laughs, phoning from his ranch house near Fort Worth, Tex. "It's just become a very sterile and dull and uninteresting experiment, and they've really ruined what they based it on. We still have some great people doing things, but the mainstream radio stations don't play it. They only play that other stuff. So I rarely ever go to Nashville anymore, there's nothing there."
Cowboy jazz
Thompson was born Sept. 3, 1925, in Waco, Tex., and by age 5 had acquired a serious admiration for blues guitar legend Jimmy Rogers, whom he still considers his largest musical influence.
"(He) was an inspiration for most everybody back then who was startin' out," Thompson says. "He kind of set the pace for the music, and was by far the most popular singing figure of his time. So we grew up with that, and it was a great influence on me. In fact, I still listen to his recordings."
Thompson started out playing harmonica, but was given a guitar for his 10th birthday and never looked back. As a teen-ager, Thompson became a popular local performer, mixing his musical skills with sideshow talents like ventriloquism and magic tricks. The burgeoning entertainer played his first live radio broadcast in 1942, while still a high school student.
After a three-year stint in the U.S. Navy, where Thompson regularly performed for his fellow troops, he returned to Texas and began his musical career in earnest. It didn't take long for him to make a splash: Thompson scored a regional hit with his first single, "Whoa Sailor," and was soon recommended to Capitol Records by country legend Tex Ritter.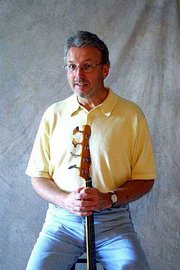 Within months, Thompson had the No. 2 record in the country ("Humpty Dumpty Heart"), pioneering in its blend of brassy big-band tempos, feverish fiddle and twangy steel guitar.
"He was the instigator of kinda putting western swing with honky-tonk music," Morey Sullivan, Thompson's bandleader, says, phoning from his Topeka home. "I don't know that he knew what he was inventing at the time, but that's what he did. He took a Bob Wills-type western swing band and put his own kind of honky-tonk feel to it. It was a huge hit and very cutting-edge type of music."
Valley of the y'alls
Backed by his band, the Brazos Valley Boys (named for the Brazos River Valley near Waco), Thompson broke the Top 20 a remarkable 21 times between 1949 and 1958, selling more than 60 million records during his career. Famous for woozy hotsteppers like "A Six Pack to Go" and "On Tap, in the Can, or in the Bottle," Thompson proved equally adept at wry, lovesick ballads like "The Mark of a Heel" and "He's Got a Way With Women" (punchline: "and he just got away with mine").
But it was his 1952 signature hit "The Wild Side of Life" that truly made Thompson a legend. The song an ode to good women gone bad contained a chorus that would gain the singer-guitarist a fair amount of notoriety: "I didn't know God made honky-tonk angels," he crooned, without realizing musical history was being made. "Wild Side" crested the charts for nearly four months before fading from public consciousness. But a year later, the song became ubiquitous once again, thanks to a struggling female musician named Kitty Wells.
Wells defended Thompson's attack on barroom women with "It Wasn't God Who Made Honky Tonk Angels," which blamed cheating husbands for their wayward wives. Her song soared to the top of the charts, the first million-selling record by a female artist, paving the way for everyone from Patsy Cline to Shania Twain.
"It was a tremendous boon to me," Thompson recalls of Wells' musical response. "It was just a direct answer song if you hadn't heard my song, her song wouldn'ta made no sense at all. So I got probably about an extra three-month ride on my record because of hers. That was not uncommon. Answers had been done for years. Jimmy Rogers did that type of thing on his 'Blue Yodels,' where it was kind of an answer to the one before. When she did this song, it was not a new thing in the business by any means."
The Brazos Valley Boys gained a reputation of their own during this period. The group was the first to tour with its own sound and light system and was named Billboard Magazine's Country Band of the Year 14 consecutive times during the '50s and '60s. Hank and the Brazos were also known for wearing flashy sequined suits designed by iconic rhinestone tailor Nudie, who went on to outfit everyone from Elvis Presley to Keith Richards.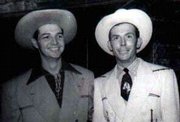 Home on the road
Thompson enjoyed several more hits throughout the '70s and '80s, continuing to tour the globe most months of the year. For the singer-guitarist, the road became a home of sorts.
"I've been doin' it ever since I joined the Navy when I was 17," says Thompson. "So I don't know any other kind of life but travelin'. If I didn't travel, I wouldn't get to see my friends. I've got friends everywhere we go."
Sullivan a bassist who has a degree in music performance from Central Missouri State University and shared stages in Tulsa, Okla., bars alongside a young Garth Brooks became Thompson's bandleader in 1980, fronting the Brazos Valley Boys ever since.
"Hank and I just clicked and the band clicked," recalls Sullivan, who insists that formal education and training will only take a musician so far.
"If you can play you can play," he says. "Very rarely do we look at a piece of sheet music and try to play it. These are all head arrangements; they are playing by ear. The best players I have ever worked with have been people who could not read music. A degree in music doesn't hurt anything, but to be a journeyman musician, it's just not needed if you can play."
Hank and company have played on all seven continents, regularly touring Europe and Asia, where country fans are often looking for more traditional fare than their too-cool counterparts in the United States.
"They really are very America-orientated," Thompson says of overseas audiences. "They kind of dress (like) the '50s and '60s and drive cars of that era, and wear the clothes of that era. So they're very much attuned to the real country music and the country culture of America."
To keep things fresh, the band changes its set lists from night-to-night, allowing spontaneity and experience to lead the way.
"Most of the guys in the band have played jazz and played blues," Sullivan explains. "And so there's a lot of transference of that type of feel to western swing music. We are playing jazz choruses for the most part totally improv. It's new and fresh every time we play, and it's a lot of fun."
For Sullivan, the art of improvisation is a lost one, especially in today's regimented world of corporate-run record labels.
"The younger players and it's not their fault are forced to mimic the record that's been a big radio hit," he says. "There's certainly licks and little musical motifs that we have to reproduce too, but not to the level that they're having to do it today. I really am sympathetic with some of these players that are having to do that, because they have to sound like a jukebox. So the art of improvisation is being lost a bit by playing that type of music."
The 'other' Hanks
That type of music heavily commercialized country has enjoyed a virtual stranglehold on the airwaves during the last decade, subordinating artists like Thompson to the back of the sonic bus.
Though the singer-guitarist is the only musician ever to have records chart during six consecutive decades and has won just about every award out there, Thompson doesn't always receive the critical deference that is often afforded to country's more-famous Hanks Snow and Williams.
"I've certainly been recognized and acknowledged," he disagrees, pointing out the numerous accolades and awards, including induction into the Songwriter's Hall of Fame and the Country Music Hall of Fame.
"Because he wasn't part of the Nashville establishment, I don't believe he got the credit he was due," Sullivan counters. "Hank might say that, but looking at it from more objective eyes than his, I don't think so."
Regardless, Thompson remains the epitome of the content musician, still taking pleasure from a life in music.
"You only retire from things you don't like and go to doing what you always wanted to do," he laughs. "Well, I've always been able to do what I wanted to do, so there was nothing I could retire to. I'm sure that I'm a lot better now than when I started. Of course my fingers might not move quite as fast, but it's still there."
Copyright 2018 The Lawrence Journal-World. All rights reserved. This material may not be published, broadcast, rewritten or redistributed. We strive to uphold our values for every story published.