A performance by a Broadway star and a pancake breakfast will be among the events this weekend kicking off the largest fund-raising campaign in Kansas University's history.
On Friday, KU Endowment Association officials will officially unveil their "KU First: Invest in Excellence" campaign, which aims to raise $500 million for the university in the next three years. Projects to be funded include everything from scholarships and professorships to science labs and landscaping.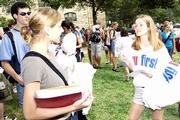 "I think it's one of the more important days we've ever had at the University of Kansas," Chancellor Robert Hemenway said.
For the past three years, KUEA officials have been in the "quiet phase" of their campaign, meeting privately with donors to secure large contributions.
Campaign Chairman Forrest Hoglund, a KU graduate and retired oil executive from Texas, wouldn't say exactly how much of the $500 million goal has been raised so far.
"We are over halfway," he said.
About 500 people mostly major donors have been invited to Friday's gala, which runs from 6 p.m. to 10 p.m. at the Lied Center. It will include a reception, dinner and performances by KU students and faculty.
A highlight will be a duet by J. Mark McVey, the lead male performer in Broadway's "Les Miserables," and Pamela Hinchman, an acclaimed opera performer and associate professor of music at KU.
Toni-Marie Montgomery, dean of fine arts, said groups have been working on their performances since spring.
"We're really honored to participate, not only with the performance but that it's in our home, the Lied Center," she said.
Officials will officially unveil the campaign goal and total amount raised during the Friday event.
Saturday morning, the Endowment Association will play host to a breakfast for faculty and staff members to discuss the goals of the campaign. The breakfast runs from 8:30 a.m. to 11 a.m. on the lawn behind Nichols Hall and the Endowment Association building on West Campus.
"We'll be trying to give the message to members of campus that this campaign will produce results that will provide tangible benefits for everybody on this university," said Tom Beisecker, chairman of the University Family Committee.
The committee, made of faculty, staff and students, serves as an intermediary between campus and the KU First Committee.
Later Saturday morning, the Endowment Association will give away 25 $1,000 scholarships to students who attend the KU-UCLA football game. To be eligible, students must wearing a KU First T-shirt. The free T-shirts are available on the lawn outside Stauffer-Flint Hall through today.
By the end of the campaign, committee members expect to make 30,000 contacts with potential donors in person and by mail and phone.
Hoglund, the campaign chairman, said this weekend should be a good beginning for the next phase.
"It's just a celebration kickoff to get everybody up to speed and excited and enthused about it, and to let them know why it's so important," he said. "Hopefully, it'll be a launching pad for a big, new part of the campaign."
Copyright 2018 The Lawrence Journal-World. All rights reserved. This material may not be published, broadcast, rewritten or redistributed. We strive to uphold our values for every story published.