The three volleyball games Kansas and Wichita State played were not really not as close as the scores indicated.
Still, the Jayhawks whipped the Shockers handily, 30-14, 30-20 and 30-19, Wednesday night at the Horejsi Center.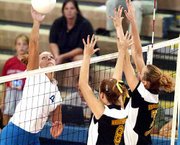 "We didn't let them get on any runs," KU coach Ray Bechard said. "We were consistent on our side-outs and our hitting efficiency gave our setter more choices than their setter."
Kansas (5-0) had a .418 team hitting percentage, compared to Wichita State's (2-1) abysmal .020.
"Our hitting efficiency was basically the difference in the match," Bechard said. "Any time you hold an opponent to that low of a hitting percentage, you put yourself in a pretty good position to win the match."
Kansas had more than double the kills, 53-26, and assists, 49-23, than Wichita State.
The fact the Shockers scored three consecutive points just five times during the match didn't help the Shockers much, either.
"I was pleased with the way our whole team played," KU senior setter Molly LaMere said. "Our outside hitters did such a great job and the middle blockers were right in there."
The Jayhawks never trailed in the first game, but were down for the first part of the second game. With the Shockers leading 10-7, Kansas ripped off six straight points, including two aces by freshman Jill Dorsey, for a 13-10 lead.
Wichita State threatened early in the final game as well, but again the Jayhawks rallied and produced a string of five points to take a 9-6 advantage.
"For a match this early in the season, I feel we had a pretty well-rounded effort," Bechard said.
Freshman outside hitter Danielle McHenry led Kansas with 15 kills and a .591 hitting percentage. Bechard said he was particularly impressed by one of the middle blockers, junior Molly Scavuzzo.
"It's good to see her get 12 kills on two errors," he said.
Scavuzzo, who appeared in just eight games last year, tallied personal bests in every offensive category.
"She's doing awesome," LaMere said of Scavuzzo. "She's a lot more consistent."
Something that was not a reliable was Kansas' serving. The Jayhawks totaled 11 service errors and five aces.
"That would be the only downside," Bechard said. "Eleven errors is too many for just five aces."
Kansas' next match will be at 1 p.m. on Friday at Horejsi against Georgia Southern. The match is part of the Hampton Inn-Jayhawk Classic. KU will also meet Montana at 7 p.m. Friday in the two-day meet.
Copyright 2018 The Lawrence Journal-World. All rights reserved. This material may not be published, broadcast, rewritten or redistributed. We strive to uphold our values for every story published.