With anticipated openings of a new parking garage this fall, a relocated Lawrence Arts Center in the spring and a mixture of shops, offices and apartments to follow, only one big issue remains for developers of the Downtown 2000 project along New Hampshire Street.
Whether to add a seven-story, full-service hotel to the mix.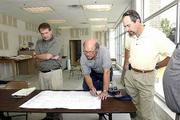 "I wouldn't be working on it if I didn't think the potential was there," said Steve Craig, president and chief executive officer of Linquist & Craig Hotels Inc., 1611 St. Andrews Drive.
Craig is working with 9-10 LC, another Lawrence development group that is reshaping the 900 block of New Hampshire Street into an arts, retail, office, residential and parking complex.
Until now, talk of a hotel has been just that talk. But Craig's group recently began putting together feasibility studies for construction of a hotel at the southwest corner of Ninth and New Hampshire streets.
Among the possible brands for such a building: Radisson; Hilton, including its DoubleTree, Red Lion and Embassy Suites hotels; and Six Continents, including its Crown Plaza, Holiday Inn and Intercontinental hotels.
"We haven't signed any agreements, but that's who we're talking to," Craig said.
If built, the hotel would have up to 120 rooms and include a restaurant, lounge, workout center, meeting rooms and room service, Craig said.
The downtown site would make a good home for a hotel, he said, given its location next to a 500-space parking garage. It also would be across the street from the new arts center, and anchor a spot in the center of the central business district, long considered the city's retail, cultural and governmental hub.
Marty Moore, a 9-10 LC partner, is hoping that the numbers work out.
"We're trying like heck to do this," Moore said. "They're a respected hotel group, and we're hoping we can get this deal moving forward."
Jeff Shmalberg, another 9-10 LC partner, said the building would be at least seven stories tall and cost $8 million to $10 million.
As for other sections of Downtown 2000:
The parking garage is expected to open to the public in 30 to 60 days, City Manager Mike Wildgen said.
Construction started last month for a four-story building south of the garage. A "national tenant" is expected to occupy part of the first floor, Shmalberg said. City offices will be on the second floor, with 20 apartments located upstairs.
Copyright 2018 The Lawrence Journal-World. All rights reserved. This material may not be published, broadcast, rewritten or redistributed. We strive to uphold our values for every story published.