Norfolk, Va. — Many of the sailors who fought to save their wounded shipmates and prevent the USS Cole from sinking during the chaotic aftermath of a terrorist bombing were honored Wednesday for their bravery.
Awards were presented to 107 sailors among the Cole's 317-member crew during the ceremony at Norfolk Naval Station. In addition, the entire crew received a combat action ribbon and a Navy unit commendation for exceptionally meritorious service.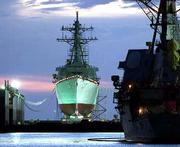 "This is one of the proudest moments of my career to be able to stand up here, singling out the sailors for their heroic accomplishments, shaking their hands," said Rear Adm. John B. Foley III, commander of the Naval Surface Force Atlantic.
The Oct. 12 attack on the U.S. Navy destroyer in the southern Yemen port of Aden killed 17 American sailors and injured 37.
"Better than getting the awards, it's great to see everyone again," said Petty Officer 2nd Class Will Merchen of Rapid City, S.D.
"We were just praying that somebody out there knew what had happened to us. It was a scary experience," said Petty Officer Sarah Gomez of San Antonio, Tex.
Overall, awards will be given to 149 people, including Purple Heart Medals to the sailors who were hurt in the attack.
The ceremony was closed to the general public because of increased security at the base since the bombing.
The Cole is undergoing $240 million in repairs at the Northrop Grumman Ingalls shipyard in Pascagoula, Miss., where it was built. It is expected to return to its home port of Norfolk in April.
Copyright 2018 The Associated Press. All rights reserved. This material may not be published, broadcast, rewritten or redistributed. We strive to uphold our values for every story published.