When Prairie Fire's new chef Robbi Jenkins attended Washington DC's Howard University, she had it in mind to become a professor of American History. But the break she took after graduation, before beginning her Masters degree never ended.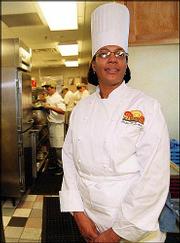 Two years working as a flight attendant led her to Los Angeles and her next career as a buyer for major department stores such as JC Penney, Nordstrom's, and the Macys Company. "I thought this was what I'd do," recalls Jenkins, "I thought that would be my career; fashion."
Like many professional chefs, Jenkins love for food began with a love of eating. Though raised in Yorktown Heights, New York, about fifty miles north of the big apple, she credits her affinity for food to her visits to her grandparent's home in Mississippi. Her grandfather was a professional baker for 42 years, and her grandmother was a talented cook. "She was a club woman," Jenkins relates, "women in the south often belonged to clubs, and they'd entertain and cook."
During her college years Jenkins recalls being one of the organizers of "dorm dinners," planning and executing the menus for the informal events. It was during her time in L.A. as a buyer and merchandiser that she first considered cooking professionally. Friends encouraged her to market her food and she began some modest catering.
After the end of a marriage Jenkins, who's parents had relocated from New York to suburban Chicago decided to regroup with family and consider another change of career. She took her affinity for food and experience in merchandising and went to work for Famous Deli and Specialty Foods.
"I wanted to do something that brought me pleasure," says Jenkins of her decision to pursue a career in cooking. Deciding that if she were to do this, she'd do it right, she enrolled in the two-year program at the Washburne Culinary Institute in Chicago.
Since completing her study there, she's worked in a variety of roles, under a variety of renowned chef's in the Chicago area, ultimately arriving at a venue where she'd aspired to apply her skills, Chicago's Ritz Carleton Hotel.
Last spring, after encouragement by her brother Joseph Banks, the Manager of Restaurant Operations at Prairie Fire, Jenkins first visited Lawrence. She liked what she saw in both the restaurant and the community. When her brother informed her there would be an opportunity opening up at Prairie Fire, Jenkins pursued it cautiously. She didn't want to leave the Ritz in the lurch, departing would have to take place before the holiday season or wait till next year.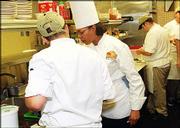 As it turned out, the timing worked and on the last Tuesday in June, Jenkins took over the kitchen. After some minor growing pains and some expectable turnover the kitchen staff stabilized with the core kitchen staff, including the sous chef and pastry chef remaining intact.
"If I'd stayed at the Ritz, it would have been many years before I could call the shots," explains Jenkins of her decision to leave a large company, with multiple properties, 401K's, comped rooms and the like.
Prairie Fire's emphasis on 'fresh, local, and seasonal' remains the watchwords under Jenkins' leadership. She finds that she's involved in teaching now on a regular basis, owing to the wide ranges of experience and skills represented in her kitchen.
While in the past the plan had been to turn the menu at Prairie Fire four times a year, on a seasonal basis, Jenkins anticipates turning it twice, with dishes on the menu evolving as the availability of seasonal ingredients changes. "A dish made with peaches now may be made with apples later in the fall, soups will become heartier through the winter," explains Chef Jenkins.
Before next weekend she expects to turn the menu for the first time, presenting her own menu for the first time in her professional career. It's an exciting time for her. "I was up a lot of nights late with this menu," says Jenkins with a smile.
Copyright 2018 The Lawrence Journal-World. All rights reserved. This material may not be published, broadcast, rewritten or redistributed. We strive to uphold our values for every story published.