Paris — The supersonic Concorde got its wings back Wednesday just over a year after a deadly crash with French and British officials clearing the fleet of 12 aircraft for flight once safety modifications are made.
The announcement came 13 months and 11 days after an Air France Concorde crashed minutes after takeoff from Paris, killing 109 passengers and crew and four people on the ground.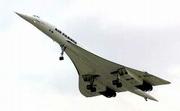 "Air France is very pleased with the decision ... to reinstate Concorde's airworthiness certificate," the carrier said in a statement, adding that it would resume service in November between Paris and New York.
British Airways, which owns the other seven Concordes, said it intended to resume London-New York supersonic service soon, but did not set a date.
The "mandatory airworthiness directive" from civil aviation authorities lays out changes to be made to the aircraft before it can resume its trans-Atlantic flights.
The major changes address the chain of events that sent the sleek needle-nosed plane, carrying mainly German vacationers, into a fiery dive into a hotel in the town of Gonesse on July 25, 2000.
Investigators believe a stray strip of metal on the runway punctured one of the plane's high-pressure tires, which blew a hole in a wing fuel tank and started a fire.
Key modifications to the aircraft include stronger tires, fuel tank linings made of bulletproof Kevlar, and extra protection for critical electrical and hydraulic systems on the underside of the wings.
Copyright 2018 The Associated Press. All rights reserved. This material may not be published, broadcast, rewritten or redistributed. We strive to uphold our values for every story published.