Blue Valley West, the newest high school in the state, has a bonafide No. 1 girls golfer this fall.
Senior Lauren Legler, who placed fourth at Class 6-5A state last year while attending Blue Valley, shot a 1-over-par 37 on Eagle Bend's back nine on Wednesday to win the Firebird Invitational.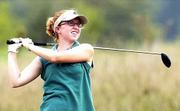 "All my friends were going to the new school and I thought it'd be fun to try to set some records at West," Legler said of choosing the new Overland Park school, whose mascot is the Jaguars, for her senior year. "It's a lot different here. We didn't have as many girls go out and we're struggling to get a varsity team."
Legler didn't struggle in her Eagle Bend debut. She had one birdie and two bogeys. A bogey-5 on No. 18 spoiled Legler's bid for par.
"I overshot the green and was in the sand," Legler said of No. 18. "I wasn't happy with the last hole. The rest of the day I was happy."
Legler has grown up around a golf course. Her father, John, was a former assistant pro at Lake Quivira.
"I really got serious about it at the beginning of last year," said Legler, who placed 21st at state as a sophomore before jumping to fourth last year.
Host Free State finished second with 196 strokes, four behind Olathe East (192).
Junior Ashley Johnson led the Firebirds with a 46 round, good for fourth. Senior Leah Tacha (49) and sophomore Kym Scafe (50) placed sixth and ninth, respectively, to receive medals.
"I'm pretty happy with that score," Johnson said of the 46, which included pars on 14, 15 and 17. "I was hitting the ball well today, especially with my irons and I had no three-putts."
Just six players, including two Firebirds, shot below 50 in the 39-player tournament. Olathe East's Jaci Hiatt finished second at 40.
"We've improved," FSHS coach Steve Grant said. "The girls were disappointed last week after Iron Horse since none broke 100. We were a couple of strokes out of winning this thing."
All seven teams golfed on the back nine. Eagle Bend's grounds crew was fixing tee boxes on the front nine.
"It's a little tighter and more challenging on the back nine," Grant said. "Holes 16, 17, 18 are as good as holes to finish as anyplace. It requires a bit of concentration."
Free State's jghunior varsity squad also competed, finishing last with 266 shots.
Copyright 2018 The Lawrence Journal-World. All rights reserved. This material may not be published, broadcast, rewritten or redistributed. We strive to uphold our values for every story published.