Topeka — A Topeka woman has been charged with harboring a man wanted in a fatal Emporia apartment explosion.
Shameika Lavette Holmes, 22, is accused of helping Ethan Griffin, 26, of Topeka, avoid capture from Aug. 13 through Friday, when he was arrested in Kansas City, Mo.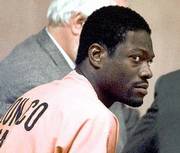 Holmes made her first appearance Tuesday in Shawnee County District Court on charges of aiding a felon and obstructing official duty.
Holmes is in the Shawnee County Jail being. Her bond is $50,000.
Griffin has been charged with two counts of felony murder in the July 29 explosion and fire that killed 19-year-old Dana Hudson and her 13-month-old son, Gabe. Griffin is in the Lyon County Jail on a $1 million bond.
Chief Judge Merlin Wheeler imposed a gag order and sealed the affidavit in the case during Griffin's first court appearance Tuesday in Lyon County.
A preliminary hearing date has been set in Griffin's case for Oct. 15 and 16.
Wallace L. Dixon III, 31, of Topeka, also is charged with murder in the fire.
Copyright 2017 The Associated Press. All rights reserved. This material may not be published, broadcast, rewritten or redistributed. We strive to uphold our values for every story published.