Los Angeles — Pretty much everyone in Hollywood foresaw a summer of record revenue. A relentless stream of blockbusters such as "Pearl Harbor," "Planet of the Apes," "Lara Croft: Tomb Raider" and "Jurassic Park III" were expected to shatter the summer 1999 record of just under $3 billion.
Who knew a cartoon ogre would out-perform the heavy hype of "Pearl Harbor," and that a buddy-cop sequel would beat the return of dinosaurs and talking apes?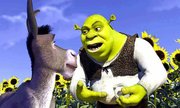 The record is still expected to fall. But the industry wound up limping toward it, slowed by a mid-season slump, a weaker batch of late-summer films and huge drops in grosses after big opening weekends.
"On paper, this looked like it was going to easily be the biggest summer of all time," said Paul Dergarabedian, president of the box-office tracker Exhibitor Relations. "It was kind of a foregone conclusion it would be a home-run-out-of-the-ballpark kind of summer."
He now estimates that domestic grosses will come in at $3.06 billion from Memorial Day weekend through today, the period when studios rake in about 40 percent of their revenue.
And it was the animated fairy tale "Shrek" and the cop comedy "Rush Hour 2," a pair of $200 million films, that helped lift the industry to a new top-dollar summer.
With average ticket prices running an estimated 10 percent higher than in 1999, actual film attendance this summer will come in a bit lower than it did two years ago. Factoring in inflation, movie revenues today would be far below the level of Hollywood's heyday in the 1930s and '40s, before television cut into its audience.
Snoozers and sleepers
There were no surprise hits this summer on the order of "The Sixth Sense" or "The Blair Witch Project," which propelled the industry to an uncharacteristically strong finish in August 1999. "American Pie 2" was this summer's last big film.
But some films did surprise by exceeding the take of higher-profile ones. Two pre-summer releases have passed the $200 million mark: "The Mummy Returns" at $202 million and "Shrek" at $262 million, the second-best gross ever for an animated film, behind "The Lion King."
"Rush Hour 2" should hit $200 million in the next week or so. Though it opened after two of summer's most-anticipated releases "Planet of the Apes" and "Jurassic Park III" "Rush Hour 2" already is $20 million or so ahead of those films.
On the action front, the surprise smash "The Fast and the Furious" topped $140 million, out-grossing "Tomb Raider" by about $11 million.
For romantic comedies, few expected "Legally Blonde" and "The Princess Diaries" to go head-to-head with the star power of Julia Roberts, John Cusack, Catherine Zeta-Jones and Billy Crystal in "America's Sweethearts." All three movies are in the $90 million range.
Nicole Kidman had a sleeper hit with the ghost story "The Others," which will surpass the $56 million her musical "Moulin Rouge" took in.
Some shortfalls
After playing to huge crowds on opening weekend, many movies nose-dived, their grosses dropping 50 percent to 60 percent in their second weekend. Studios marketed their films to guarantee packed theaters in the first few days, with filmgoers moving on to the next big release the following weekend.
Many films were critical disappointments, as well.
"Summer product is escapist, and I think the satisfaction level for that was probably a little below what moviegoers were looking for," said Steve Gilula, head of distribution for Fox Searchlight, the boutique film banner for 20th Century Fox.
Audiences did embrace a strong lineup of specialty films, including Fox Searchlight's "Sexy Beast" and "The Deep End." Other arthouse hits included "Ghost World," "Made" and "The Anniversary Party."
While summer 2001 was not the slam-dunk season many forecast, studio executives were satisfied with the results. "I think it's actually a pretty solid summer," said Jim Tharp, head of distribution for DreamWorks, which released "Shrek." "It's probably slightly less than expectations, but I don't think it's substantially less than expectations."
Copyright 2018 The Associated Press. All rights reserved. This material may not be published, broadcast, rewritten or redistributed. We strive to uphold our values for every story published.