Boston — Mike Mussina was one strike away.
And then, he lost it.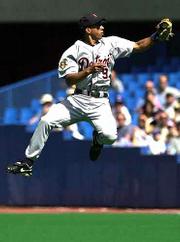 Mussina's bid for the first perfect game in the 89-year history of Fenway Park was broken up with two outs in the bottom of the ninth inning by pinch-hitter Carl Everett's clean single Sunday night in the New York Yankees' 1-0 win over Boston.
"Yeah, I was disappointed," Mussina said. "I'm still disappointed. That's the second time I've been to the ninth and I didn't get it either time. So it's probably not meant to be."
Mussina threw two quick strikes to Everett. Then Everett, batting for Joe Oliver, took a ball before hitting a soft liner to left-center field.
"I was inside hitting off the tee in case they called me," Everett said. "It was very satisfying to get the hit."
Mussina, who had battled pitch-for-pitch with David Cone the last person to throw a perfect game tilted his head slightly and gave a half-smile as he watched the ball land well in front of charging left fielder Chuck Knoblauch.
"I was trying to throw him a high fastball," Mussina said. "I threw it pretty much where I wanted to and he fought it off."
Mussina retired Trot Nixon on a grounder to finish his fourth career one-hitter. Mussina struck out 13.
This marked the third time in his career that Mussina (14-11) had taken a perfect-game bid into the eighth inning.
"I know it's only happened 15 times or so in history," Mussina said. "I was that close again."
A ninth-inning error set up the only run of the game, and the AL East-leading Yankees sent Boston to its eighth straight loss.
Mussina allowed just four balls out of the infield. He was bidding for the 15th perfect game in modern history.
Mussina admitted he thought about the possibility of a perfect game "about every inning."
"I'd be second-guessing it until I retire," he said of his pitch sequence.
The Red Sox did not come close to a hit until pinch-hitter Troy O'Leary opened the ninth with a sharp grounder. First baseman Clay Bellinger, who scored the lone run as a pinch-runner in the top of the ninth, made a diving, backhanded stop and flipped to Mussina for the out.
Mussina struck out Lou Merloni before Everett singled. Everett was in a 3-for-32 slump and just 1-for-9 with seven strikeouts lifetime against Mussina until the single.
The crowd of 33,734 stood in silence as Mussina took the mound for the ninth. New York's three-game sweep handed Boston its longest losing streak since June 1994. The Red Sox fell nine games behind the Yankees.
The loss had to be even more painful for the Red Sox because they tried to sign Mussina as a free agent last offseason before he chose the Yankees and their $88.5 million, six-year contract.
White Sox 19, Indians 10
Chicago Paul Konerko, Jose Canseco and Chris Singleton homered, and Chicago spoiled Charlie Manuel's return to the dugout.
"I've been dying to get back," said Manuel, who missed five games after surgery last weekend to remove scar tissue from his colon.
"I'm not happy with the way we lost."
Konerko drove in five runs and Magglio Ordonez drove in four. Karim Garcia hit two home runs for the Indians.
The 19 runs were a season high for Chicago and the most allowed by the Indians since they lost 21-1 to the Yankees in July 1999.
After the Indians scored six times in the top of the second, Chicago scored eight times in the bottom half, capped by Konerko's three-run home run.
Mariners 1, Orioles 0
Baltimore Joel Pineiro outpitched fellow rookie Rick Bauer and Bret Boone hit a seventh-inning homer. Pineiro (4-1) blanked the Orioles on four hits over seven innings, striking out four and not allowing a walk.
He received an assist from right fielder Ichiro Suzuki, who threw out a runner at the plate in the fourth the only inning in which Baltimore got two hits off the right-hander.
Kazuhiro Sasaki, the fourth Seattle pitcher, recorded three outs for his 41st save. The potential tying run was cut down at home when Mark McLemore threw out Melvin Mora trying to score on a single by Cal Ripken.
Athletics 3, Devil Rays 1
St. Petersburg, Fla. Mark Mulder was masterful, again. Mulder pitched a four-hitter and pinch-hitter Jeremy Giambi singled home the go-ahead run in the seventh inning.
Mulder (17-7) retired the first 14 batters on the way to his AL-leading sixth complete game. Arizona's Curt Schilling leads the NL with six.
Mulder struck out eight and walked none in winning for the ninth time in his last 10 decisions. He is 11-4 when pitching after an Oakland loss. Mulder threw just 86 pitches, including 69 strikes.
Twins 5, Angels 4
Minneapolis Pinch-hitter Denny Hocking hit a leadoff home run in the bottom of the ninth inning.
The Angels, shut out on three hits by Rick Reed for eight innings, rallied for four runs in the ninth to tie it.
Hocking, batting for rookie Dustan Mohr, connected on the second pitch from Al Levine (8-9). Eddie Guardado (7-0) got the win.
Blue Jays 11, Tigers 0
Toronto Esteban Loaiza pitched a five-hitter for his first shutout in nearly a year and Darrin Fletcher tied a career-high with five RBIs for Toronto.
Copyright 2018 The Associated Press. All rights reserved. This material may not be published, broadcast, rewritten or redistributed. We strive to uphold our values for every story published.