Kickoff temperature was 78 degrees, or 28 degrees cooler than it was last year when the Jayhawks opened against SMU in Dallas during the Labor Day weekend. The thermometer read 106 degrees for that 6 p.m. kickoff.
KU's student-athletes, except members of the volleyball team who are out of town, formed a human tunnel to greet the Jayhawks as they ran on the field. Every week a different group of individuals will form the human tunnel.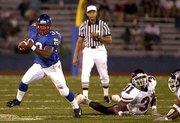 Walter Davenport, a first-year Big 12 Conference official from Tulsa, Okla., was the referee. The other six officials were also assigned by the Big 12.
SMS place-kicker Brian Long was short on a 45-yard field goal attempt midway through the first quarter. In the second quarter, Long drilled a 47-yarder for the Bears' first points. Just before halftime, Long was wide right on a 27-yard attempt from the right hashmark. Long made it 1-for-4 in the third quarter when his 30-yard attempt bounced off the left upright.
With starting running back Reggie Duncan serving a one-game suspension, Daniel Coke started, but gave way to Harold McClendon late in the first half after Coke fumbled out of bounds. Earlier, Coke had lost a fumble that SMS turned into a field goal.
SMS tailback Zach Dechant is a native of Ransom, hometown of former standout KU quarterback Nolan Cromwell. Dechant wore No. 21, the same number Cromwell used while playing in the NFL. Cromwell is now an assistant coach with the Seattle Seahawks.
Dechant was one of four tailbacks the Bears used in place of starter Jason Ringena, who was suited but didn't play because of a hamstring injury. Junior tailback Beno Gore, a former Olathe North standout, also suited but didn't play.
Kansas led 21-10 at halftime, but compiled only 12 more offensive yards (191) than the Bears (179). SMS had a huge edge in time of possession at the break 19:14 to 10:46. SMS finished with a 33:41 to 26:19 TOP advantage.
KU officials estimated the attendance at 37,500, making it the largest season-opening crowd since the Jayhawks lured 41,800 for Michigan State in 1994.
Outside linebacker Leo Etienne, a transfer from Hutchinson CC, didn't start, but led the Jayhawks with 14 tackles. Middle linebacker Marcus Rogers had 10 stops. Outside linebacker Algie Atkinson had seven tackles five for 34 yards in losses, including a pair of sacks. Cornerback Andrew Davison had the Jayhawks' lone interception.
SMS was penalized just three times for 25 yards. Kansas had eight flags, mostly against the defense. KU strong safety Jake Letourneau was called for two face mask penalties.
SMS earned $250,000 for making the trip to Lawrence.
KU officials reported no serious injuries.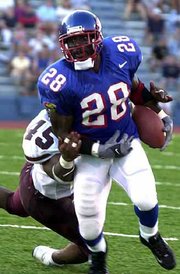 Copyright 2018 The Lawrence Journal-World. All rights reserved. This material may not be published, broadcast, rewritten or redistributed. We strive to uphold our values for every story published.