The students are back in town.
Some folks don't like it. But it's good news for at least one Lawrence tattoo parlor, where business starts hopping every year about this time.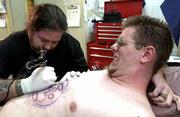 "Pretty much the summer's real slow, but when school starts it's actually more when financial aid comes through we get really crazy," said Taylor Collins, body piercing apprentice at Skin Illustrations, 740 Mass.
The only other tattoo parlor in town, Shane Hart's Studio of Tattooing at Ninth and Iowa, caters to an older crowd, owner Shane Hart said.
KU junior Britton Nevans joined the back-to-school entourage at Skin Illustrations Thursday afternoon. His last class let out at 1:30 p.m., and tattoo artist Dave Williams was prepping him to go under the needle by 3.
His choice for his third tattoo was a cartoonish red duck with a yellow halo hovering above its head. He got the idea from a Red Hot Chili Peppers T-shirt.
The tattoo will set Nevans back about $250. Although he doesn't have a job during school, he saved a lot of money this summer.
"It's just one of those things you prioritize," he said.
Before permanent ink is needled in, Williams transfers the design onto Nevans' chest and stomach. He first rubs the area with deodorant.
"It stops the smell of burning skin when we do the tattoo," he quips. Actually, it helps the transfer paper stick.
Williams' arms are covered with tattoos in greens, reds, yellows and black marks of working in the trade 17 years. He lowers the chair into a reclining position, and Nevans heart starts beating more rapidly.
"As long as I don't look directly at it, I won't freak out," he says.
"Remember to breathe," Williams says, gesturing to a sign on the wall that reads "Unauthorized individuals who pass out will have their crotch soiled, eyebrow shaved and underwear ripped over their shoulder."
"We haven't had any fun in a few days," he jokes. "Are you ready?"
"Let's do it," Nevans answers.
Williams begins tracing the design in black ink. The electric tattoo gun's tiny needles pulse in and out of Nevans' chest. His toes curl, and he groans occasionally.
"Just as we drop off the end of those ribs, the nerve endings are right there," Williams warns.
Once the outline is in place, Williams uses a "Magnum" tattoo gun or "The Whoop Ass," as he calls it to fill in with color. Its 14 miniature needles work quickly to knock out large blocks of the duck's body.
"It looks vicious, but it's not that bad," Williams said. "It colors in like a Sharpie."
Though Nevans vowed not to look while the needles were in action, he peeks occasionally at Williams' progress.
"If you look at it, it tends not to hurt as much," Williams says.
Nevans compares the needles' strokes to a cat scratch and says the pain will continue after he leaves the tattoo parlor.
"After it's done, it feels like a really bad sunburn and someone just smacked you right in the middle of it," Nevans said.
The too-familiar story of people numbing the pain of a tattoo by getting drunk beforehand is only a myth at Skin Illustrations. A sign on the wall announces that no one who is incapacitated or inebriated will be tattooed.
At about 8 inches tall and wide, Nevans' tattoo is larger than most students opt for, Williams said. But his reason for seeking out the tattoo parlor a bit of rebellion seems to be a common draw for many students with body art.
"I wanted to do something that was unexpected," Nevans said. "My mom will be disappointed. My dad's going to be really mad."
Copyright 2018 The Lawrence Journal-World. All rights reserved. This material may not be published, broadcast, rewritten or redistributed. We strive to uphold our values for every story published.