After a night in his family's new pop-up camper, 4-year-old Aaron Jones was ready to move in permanently.
Aaron and his family, who are from Bonner Springs, are spending the Labor Day weekend along with about 30,000 other people at Clinton Lake.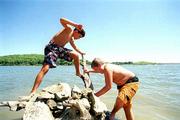 His father, Michael Jones, said this probably is the last camping trip of the year for the family.
"We say we're going to get out a couple of times before it gets really cold, but we may not," he said.
The Joneses were supposed to be joined by three families at the lake for a weekend of fishing. But the other families found alternate Labor Day activities. One went to Oceans of Fun, another family painted their house, and the other didn't want to brave the heat.
Actually, Saturday's high in the mid-80s was more than 20 degrees cooler than the Saturday before Labor Day last year, when the high was 110. The next day was 102, and Labor Day was 92.
"I don't even think we got out of the house last year," Jones said.
Nearby, Mark Berkland, Olathe, was pushing his 3-year-old son, Garritt, on a swing.
"It's such a nice weekend," Berkland said. "We had to be out here."
His family planned to ride bikes around the lake much of the weekend.
"Just spending a lot of time with the kids, mainly," he said.
Labor Day has turned into a family reunion at Clinton Lake for the Long family. About 20 family members from Northeast Kansas and the Kansas City area planned to be at the lake this weekend.
"It's been a tradition for our family," said Joanna Long, Lecompton.
"We read the paper, play Scrabble, read books," said Elaine Long, Lee's Summit, Mo. "And the guys go fishing. Last night, we were sitting and telling stories on each other when we were younger."
Elaine Long, who is Joanna Long's sister-in-law, is retired, but she serves as a substitute teacher's aide in Lee's Summit.
"I always take off until after Labor Day, even if they want me to work before," she said.
Jim Franz, a park ranger with the U.S. Army Corps of Engineers, said 28,000 visitors came to Clinton Lake last Labor Day weekend, and he thought the cooler weather should attract a few more this year.
The weekend is second in attendance only to Memorial Day, when 35,000 visitors come to the lake. It's also the last big day of the summer season.
"It starts tapering off because then you're shifting more to school and sports and so many other activities," he said. "This really is the last hurrah."
It's a similar story at Perry Lake, where about 20,000 campers will spend Labor Day weekend.
"It's a huge weekend for us not as big as Memorial Day, but there's still people everywhere," Park Manager Matt Enoch said.
"Every year, it's always the same. After Labor Day, there's a gradual tapering off until the middle of October, when we go into our offseason. If the weather holds out, there could be more camping than there is. People just seem to have in their minds this is the end of summer."
Copyright 2018 The Lawrence Journal-World. All rights reserved. This material may not be published, broadcast, rewritten or redistributed. We strive to uphold our values for every story published.