Jayhawk fans tailgating outside Memorial Stadium Saturday had a clear message: Cheers to KU.
For the first time in 10 years, fans were allowed to drink alcohol near the stadium during tailgate parties. The policy change announced Thursday drew praise from fans who came as much as three hours early to party in the parking lots.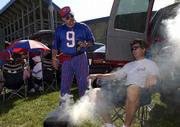 "It's outstanding if you're a football fan," said Jason Parks, a 26-year-old KU law student. "It's as much a part of the game as the kickoff now."
The alcohol policy is part of new Athletic Director Al Bohl's plan to revitalize KU football. For the first time, rock bands joined the Marching Jayhawks as musical acts, and games in the south end zone entertained the crowd.
As aroma-filled smoke from grills wafted through the parking lots, fans dressed in crimson and blue sipped on a variety of beers and chatted with friends.
"About half the people we're with wouldn't be here if it wasn't for the tailgating and having fun," Mark McGavran said.
McGavran, 25, Olathe, admitted that many fans drank at KU tailgate parties in the past. Now, he said, they don't have to hide their alcohol.
And McGavran dismissed the idea that fans would get out of hand.
"It's not like people are coming out here to get really drunk in the heat," he said.
The new alcohol policy did not change the approach for KU Public Safety officers, Lt. Schuyler Bailey said.
"We did look for any violations of alcohol or other laws," he said. "But we're here to monitor other things than just alcohol."
As of 8:30 p.m., no arrests had been made, Bailey said.
Chris Hagman, 25, Wichita, said the tailgate parties were a big reason he makes the trip to Lawrence for games.
"Tailgating's always going to be a part of football," he said. "It's nothing but fun out here. It just adds to the football season.
"Everywhere else you go, they're doing it. You go to K-State or Norman, they're out there four hours before every game."
Robert and Barbara Blachly, 1973 KU graduates from Paola, were dining on a portable picnic table in a parking lot before the game. They were pleasantly surprised by the gameday festivities.
"Everybody's pumped up," Robert Blachly said. "I wouldn't have thought so, but this is a different atmosphere."
Barbara Blachly credited Bohl with striking new interest in KU football.
"He's trying so hard to get the enthusiasm going," she said. "I don't think everybody drinking alcohol per se is what is doing it. The crowd was really ready for something different."
Copyright 2018 The Lawrence Journal-World. All rights reserved. This material may not be published, broadcast, rewritten or redistributed. We strive to uphold our values for every story published.