Clarence Lee's intricate silver and gold jewelry boxes reflect his life in Gallup, N.M.
On one box's lid, a windmill stands as a sentinel while men ride horses and turquoise-colored water glimmers in a trough. Members of the community parade along the sides and bottom of the box. On the underside of the lid, dragonflies and other insects flutter from flower to flower.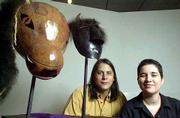 Every half-inch of the jewelry box is a mirror of the place he calls home.
"It took about four years to do," Lee, 49, said during a telephone call from New Mexico. "We've done 15 or 16 of them."
Lee's creation, titled "My Own Little World," is the Best of Show, Three-Dimensional winner in the 2001 Lawrence Indian Arts Show, which opens Saturday at Kansas University's Museum of Anthropology. His "Indian Cadillac," a silver and turquoise bolo tie, received an honorable mention.
The jewelry box is valued at $35,000, but the price tag doesn't scare away private collectors and those acquiring artworks for the nation's best museums. Lee's works are in the Field Museum of Natural History in Chicago, Southwest Museum in Los Angeles, Museum of Man in San Diego, Wheelwright Museum of the American Indian in Santa Fe, the National Cowboy and Western Heritage Museum in Oklahoma City and the British Museum in London.
Kathleen Ash-Milby, an independent curator from New York City who helped judge the show, said she appreciated the "narrative quality" of Lee's work and his use of "contemporary domestic scenes."
"I learned by trial and error," Lee said. "My father's uncle was a silversmith. He taught me the basics, but the art part is me."
Exploring America
Marcus Cadman, the winner of the Best of Show, Two-Dimensional award, uses his mixed-media paintings to make a statement about America's past and present. People who attended last year's show will remember Cadman's work using bingo cards.
In this year's award-winning "Leaders of Nations" priced at a mere $175 he couples the image of Ben Franklin with that of a spiritual Navajo leader. Yellow represents daytime; black represents nighttime. Images of the natural world also show up on the canvas.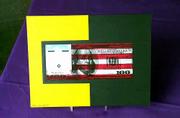 Cadman, 30, said the work examines the different leaders in American and American Indian cultures and how people look up to them.
"All of my pieces are about America and how our people fit into the scheme," he said during a phone call from his home in Shiprock, N.M.
Ash-Milby, who has a master's degree in American Indian art history from the University of New Mexico, said Cadman's work is "strong in terms of composition and technique."
The exhibit's other judge was Mateo Romero, a painter from Cochiti, a southern pueblo in New Mexico. Cadman's contemporary themes impressed Romero.
"So much of native art is historical and traditional," said Romero, who has a bachelor's degree in fine arts from Dartmouth University and a master's degree in fine arts from the University of New Mexico. "The Best of Show and Merit pieces (in this exhibit) provide a new meaning (to native art).
"Ninety percent of native art is framed by traditional concepts and the world view about making art. It's introspective and inward (thinking). Five percent is recontextualizing the art, breaking the boundaries in art and that's what's very exciting to me."
Cadman, who is mainly self-taught and not represented at this time by a gallery, also received an honorable mention for his acrylic painting, "I'm Just Going to the Trading Post."
'Visions for the future'
Maria Martin, organizer of the Lawrence Indian Arts Show, said this year's exhibit features 155 works by 73 artists who represent 33 tribal affiliations and 15 states.
Works include paintings, sculpture, jewelry, pottery, beadwork, photography, quill work and clothing.
"I feel that this annual event makes it very clear to visitors that American Indian people and their cultures are alive and well today," Martin said. "Borrowing from the past, working in the present, the American Indian artists are showing that they and their people are here now and with visions for the future."
Ash-Milby and Romero said they were impressed by the diversity of styles and media in the show.
"I was really pleased because (the works are) more contemporary and less clich Ash-Milby said. "I can see the artists are moving in a different direction."
Copyright 2018 The Lawrence Journal-World. All rights reserved. This material may not be published, broadcast, rewritten or redistributed. We strive to uphold our values for every story published.