Boston — Orlando Hernandez is back and the New York Yankees' dominant rotation is even better.
Hernandez pitched eight strong innings, and Bernie Williams' solo homer in the ninth gave the Yankees a 2-1 win Saturday, the second straight game in which they overtook the Red Sox in the last two innings.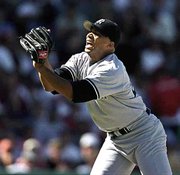 "He showed more determination," New York manager Joe Torre said of Hernandez, who had been 0-8 since last Sept. 16. "You get slapped in the face so many times, you're going to get your competitive spirit up."
It was another painful loss for Boston, in the midst of a stretch dive as its chances of reaching the playoffs grow slimmer each day. The Red Sox dropped eight games behind the Yankees in the AL East.
"Reality's setting in right now," Boston catcher Doug Mirabelli said, "the reality of us missing our window to take some of these games."
Hernandez (1-6) helped stretch Boston's losing streak to seven games, its longest since losing seven from Aug. 29 to Sept. 5, 1997. Mariano Rivera pitched the ninth for his 43rd save in 49 chances.
The Yankees already have three of the AL's top starters. Roger Clemens, Mike Mussina and Andy Pettitte have at least 13 wins each and are in the top 13 in the league in ERA.
Hernandez was sharp in his third start since missing nearly three months with a toe injury that required surgery.
"Having him back now really lifts a lot of the load off the other three," Torre said."
Hernandez allowed a leadoff homer to Trot Nixon, his 21st, in the first but only three hits after that as he struck out five and walked three.
"I'm making progress and the main thing is I came out of the game healthy," he said through an interpreter. "Luckily, we were able to score against their relievers."
For the second straight game, the Red Sox wasted a brilliant starting performance.
Pedro Martinez, in his second start since spending two months on the disabled list with a shoulder injury, struck out six and allowed two hits and walked none in six innings.
But Ugueth Urbina (0-1) allowed a run-scoring single to Chuck Knoblauch in the eighth and Williams' 21st homer leading off the ninth.
Martinez "was terrific," Torre said. "The trick against Pedro is not necessarily to beat him, but just stay with him until maybe he throws too many pitches or gets tired" and leaves the game.
Devil Rays 8, Athletics 6
St. Petersburg, Fla. Oakland's eight-game road winning streak ended when Jason Tyner hit an RBI double during a three-run rally in the eighth inning. The Athletics' lead in the AL wild card race stayed at seven games over Boston.
Oakland, which had won six straight overall, was trying to win nine straight road games for the first time since 1988.
Tyner doubled down the right-field line off Mike Magnante, and Damian Rolls added an RBI single. Jared Sandberg drew Tampa Bay even at 6 with an RBI double earlier in the inning off Jeff Tam (2-4).
Bobby Seay (1-1) worked a scoreless eighth for his first major league win. Esteban Yan got the final three outs for his 17th save.

Mariners 6, Orioles 4
Baltimore Ichiro Suzuki lined a bases-loaded single off reliever B.J. Ryan's leg that capped a four-run rally in the sixth inning, and Seattle kept its record road streak intact by beating Baltimore. Seattle has not lost in 27 straight road series in the regular season since August 2000.
In their only trip to Camden Yards this season, the Mariners lost 3-0 Friday night in the opener of a three-game set. They need to win today to extend their string.
Paul Abbott (14-3) won for the 12th time in his last 13 decisions. He allowed four runs on seven hits and six walks over five innings.
Kazuhiro Sasaki worked the ninth inning for his 40th save.
Indians 4, White Sox 3
Chicago Roberto Alomar drove in two runs, and Ryan Drese won his first major league start as Cleveland beat Chicago. Drese, called up from Triple-A Buffalo earlier in the day, allowed two runs and six hits in 52*3 innings. Juan Gonzalez and Ellis Burks added RBIs for the Indians, who have won 13 of 19 games.
Jose Valentin hit a two-run double and Royce Clayton continued his offensive surge with three hits. But Valentin also had two errors, and the White Sox stranded seven as they dropped 81*2 games back in the AL Central.
Jon Garland (6-5) allowed three runs and four hits in 51*3 innings. Bob Wickman worked the ninth for his 27th save in 30 chances.
Angels 11, Twins 9
Minneapolis Troy Glaus hit a two-run homer to get Anaheim started in the first inning then hit an RBI double in the ninth as the Angels blew a lead before rallying past Minnesota. The Angels, who scored two runs in their previous 20 innings, scored in each of the first five innings to take an 8-3 lead and had a season-high 18 hits. But Minnesota rallied to take a 9-8 lead in the seventh.
Scott Spiezio led off the eighth with a single and later scored on Bengie Molina's groundout. The Angels won it with two runs in the ninth.
LaTroy Hawkins (1-4) walked Darin Erstad to lead off the inning. After a sacrifice bunt and an intentional walk to Garret Anderson, Glaus hit an RBI double to right field. Spiezio added a run-scoring groundout.
Blue Jays 3, Tigers 1
Toronto Rookie Brandon Lyon won his third straight start and Toronto beat Detroit. Lyon (4-2) allowed one run on four hits in seven innings. The 22-year-old right-hander was called up from the minors on Aug. 3. Lyon and Dan Plesac combined on a four-hitter. Plesac pitched two innings for his first save since 1999.
Copyright 2018 The Associated Press. All rights reserved. This material may not be published, broadcast, rewritten or redistributed. We strive to uphold our values for every story published.