CITRUS HEIGHTS, Calif. — Turned in by his own terrified brother, Nikolay Soltys was captured hiding under a desk in his mother's back yard Thursday after a 10-day nationwide manhunt for the Ukrainian immigrant accused of butchering six relatives.
Soltys, 27, had apparently slipped into the yard during the night despite round-the-clock surveillance of the home by detectives. He was carrying a backpack containing a knife authorities suspect was the weapon used to kill his pregnant wife, 3-year-old son and four others.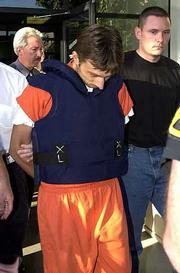 Soltys was barefoot, unshaven, dirty and "looked like he could have been hiding in a field somewhere," Sacramento County Sheriff Lou Blanas said.
The sheriff said Soltys was speaking freely to prosecutors, though he did not yet have a lawyer. Blanas declined to release details.
The capture just a few miles from the scenes of the grisly murders ended a manhunt that had reached all the way to the East Coast. Authorities said they believe Soltys never left the Sacramento area, with its large Ukrainian and Russian communities.
Deputy Sheriff Bill Samuelson said Stepan Soltys was eating breakfast around 7:45 a.m. when he looked through a glass back door and saw his fugitive brother under the desk.
Nikolay motioned for Stepan to be quiet, but Stepan instead assembled relatives in the garage, where police had installed a panic button. Neither the alarm nor a phone police had given the family worked, so the family piled into the car and fled, Samuelson said.
Surprised detectives saw the garage door fly open and the car speed away. The family drove several blocks to a framing shop, where employee Jennifer Murphy helped Stepan call police.
"A man came up to me with his cell phone and he was all shaky. He kept pushing buttons 1-1-9, so I knew he wanted to dial 911," Murphy said. "I brought him into the store and dialed 911 for him."
Dozens of deputies stormed into the cluttered yard and arrested Soltys without a struggle. He was carrying a metal potato peeler in his pocket and a map of the Sacramento area.
Authorities said they believe Soltys had been staying in woods behind the house. Blanas said the family didn't know undercover detectives were watching the home, and an officer had checked the yard Wednesday evening.
"At night there's so many ways to get into that back yard, you can't cover every inch," Blanas said.
Sheriff's Det. Chris Joachim said officers saw Soltys' feet sticking out from under the desk, which was next to an old refrigerator. "He appeared as if he was going to run, but the inoperable refrigerator door was open, blocking his exit," Joachim said.
Stepan was asked to return to the house to identify his brother, but at first refused.
"It took that long to convince him to go over there," Samuelson said. "He was obviously extremely afraid."
The manhunt began the morning of Aug. 20, when authorities say Soltys slashed the throat of his 23-year-old wife, Lyubov, at their North Highlands home, then drove to another suburb to the home of his aunt and uncle, Galina Kukharskaya, 74, and Petr Kukharskiy, 75.
Police say Soltys killed the two and their 9-year-old grandchildren, Tatyana Kukharskaya and Dimitriy Kukharskiy, who lived next door.
Soltys allegedly went to his mother's house an hour later and cleaned up before fleeing with his 3-year-old son, Sergey. The boy was found dead a day later.
Soltys had left notes in his abandoned car leading police to the body and offering a rationale for the killings, investigators said. All were stabbed to death because they or other relatives "spoke out" about topics Soltys considered private, authorities said. They did not elaborate.
Copyright 2018 The Associated Press. All rights reserved. This material may not be published, broadcast, rewritten or redistributed. We strive to uphold our values for every story published.