Six months after becoming a mother for the third time, Erica Story enjoyed spending $7.98 for a pair of "gently used" Baby Gap overalls.
"They'd be at least $20 new," said Story, shopping Friday at The Elephant's Trunk, 4821 W. Sixth St. "Some people have a thing about buying second-hand clothes like, 'Oh, it's not good enough.' But it doesn't make sense not to buy these."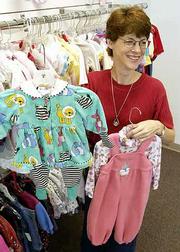 As Lawrence grows and the economy slows, customers like Story increasingly are flocking into stores for used children's clothing the Pooh overalls, Gymboree play dresses and Laura Ashley sweaters once outgrown but now in demand.
And the market is responding:
l Children's Orchard Inc., a chain with 104 stores in 26 states, will open its first downtown shop next month at 742 Mass. Owner Dawn Thompson plans to sell "upscale" new and used clothing, toys, books and equipment for newborns and young children, plus maternity clothes.
l The Elephant's Trunk opened three weeks ago southeast of Sixth Street and Wakarusa Drive. Owner Caryn Anderson's shop follows a concept similar to Children's Orchard, but also sells products on consignment.
l Two stores that opened 21 years ago Second Chance Children's Clothing, 15 W. Ninth St., and Animal Crackers, 844 Ill. are still going strong.
Second Chance co-owner Amy Laughlin said her business had quadrupled since she bought the place for $7,000 nearly three years ago.
"We just came off the highest volume month we've ever had," Laughlin said. "If that's what one new competitor is going to do to me, I can't wait for the second one."
Today there are more than 15,000 retail shops in the United States that offer goods for resale, according to the National Association of Resale & Thrift Shops. The association's membership increases about 10 percent a year.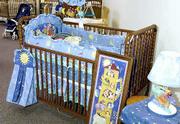 The reasoning behind the growing popularity of such shops is simple, said Carole Boulton, who in 1980 launched Animal Crackers inside her Indiana Street home.
"Kids will always wear clothes," said Boulton, who has relocated and expanded the business twice. "And during a recession, there's always a need for frugality."
All four businesses count on area residents for supplying and buying products. The shops buy used clothes, toys and equipment, then mark it up 40 percent to 60 percent for resale; some offer products on consignment.
Walt Hamilton, president and CEO of Children's Orchard, said his Ann Arbor, Mich.-based chain had fewer than 40 stores and sales of $5 million in 1993. Last year, the business had more than 100 franchise shops, with sales of $22 million.
A store open at least a year has annual sales ranging from $200,000 to $750,000, he said. Children's Orchard uses direct-mail and television advertising to reach consumers with a message of "offering top brands in perfect condition."
The target demographic in Lawrence: families with incomes ranging from $40,000 to $80,000, Hamilton said. Those at the low end are prospective buyers, while those at the high end typically have the most clothes to sell.
At The Elephant's Trunk, Anderson doesn't expect Lawrence to be overrun with resale stores offering children's products. The city is growing, she said, and doubling the number of stores only will increase options for buyers and sellers.
"It's like a garage sale," she said. "You don't just go to one. You check them all out."
Copyright 2018 The Lawrence Journal-World. All rights reserved. This material may not be published, broadcast, rewritten or redistributed. We strive to uphold our values for every story published.