LINCOLN, NEB. — The only red shirt for Nebraska freshman Barrett Ruud this season will be his home game jersey.
Four weeks after his first college practice, Ruud is the No. 2 middle linebacker for the fourth-ranked Cornhuskers.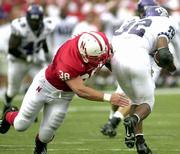 "It was a goal for me to play, but it wouldn't have been the end of the world. A redshirt year would have been all right too," Ruud said.
Red-shirting was ruled out as a possibility when Nebraska's coaching staff got a good look at the 6-foot-2, 220-pound Ruud, whose size, speed and instincts were too much to put off for a year.
Ruud quickly moved up the depth chart and on Saturday made his college debut against TCU, getting five tackles.
"When I was out there it was just like any other game," Ruud said. "When I missed a tackle I'd be like 'I should have made that.' I wasn't like 'Oh this is a major college player. It's OK. I'm a freshman.' When you're playing football you're playing football."
Ruud's second game is today, when Troy State visits Memorial Stadium. Ruud is hoping to make a better impression this time. His first play against TCU was the opening kickoff and Ruud's introduction to the college game was less than extraordinary, although it was memorable.
"I wanted to go down and try just to drill somebody. I thought I had this guy. He was sitting right in front of me and right when I was going to hit him he hopped out of the way, then I kind of lost my balance," said Ruud, whose forearm is still wrapped up because of the carpet burn he got from the artificial turf.
"Burned my whole arm up. Face plant. It was pretty embarrasing. I kind of made a fool of myself on that one."
Things got better after that.
"I think you'll find Barrett plays the game very fast. He's able to play sideline-to-sideline. We feel like he's got a bright future," defensive coordinator Craig Bohl said. "I don't want to put a nail up for him in the Hall of Fame just yet, but he does have a lot of potential."
Nebraska freshmen generally take a redshirt season to learn the system. Four freshmen stepped in and played right away last year and only three did it in 1999.
Ruud's emergence has helped the Huskers at linebacker, where there isn't a whole lot of depth after the departure of All-American Carlos Polk and the dismissal of Randy Stella.
"He did not surprise," Bohl said. "He's been looking like he was ready to play in practice and in scrimmages."
Ruud was a bit of a surprise to starter Jamie Burrow, who took over for Polk last fall.
"It is a unique situation any time you have a true freshman coming in and he's the caliber of player as Barrett," Burrow said. "He can do things at that age that I couldn't do and I still struggle to do."
Ruud, who grew up in Lincoln and played for Lincoln Southeast, has a Nebraska football legacy. His father, Tom, was a linebacker for the Huskers in the early 1970s. Uncles John Ruud and Bob Martin played at Nebraska in the '70s and great-grandfather Clarence Swanson was a Husker from 1918-21.
Copyright 2018 The Associated Press. All rights reserved. This material may not be published, broadcast, rewritten or redistributed. We strive to uphold our values for every story published.